Bunbury's artistic approach to breaking down barriers and building cultural respect wins praise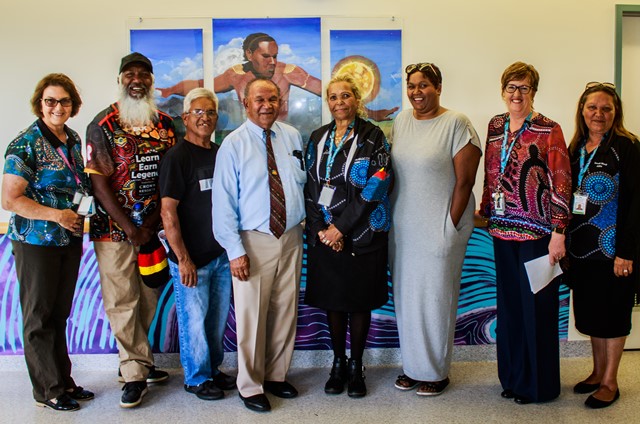 Aboriginal artists with WACHS Regional Director South West Kerry Winsor (far left) and WACHS staff Debbie Easther and Glenda Humphries (far right).
The launch of an Aboriginal art trail at Bunbury Hospital has won universal praise as a positive and innovative way to influence culture and build respect.
The trail which includes a mix of 14 paintings and murals positioned throughout the hospital was officially launched today by WA Country Health Service Chief Executive Jeff Moffett.
Aboriginal Mental Health Coordinator Glenda Humphries, who developed the trail, described it as a truly collaborative community project, which involved 10 Aboriginal artists who have produced the work.
Ms Humphries said the trail started from a small painting in the mental health community clinic but expanded as interest in and support for the project grew.
"The aim was to make our people feel more comfortable and less intimidated by the clinical feel of the hospital," said Ms Humphries.
She said the art around the hospital was proving to be powerful in helping to break down barriers through building pride for Aboriginal people and providing a talking point between staff, visitors and patients.
"It makes Aboriginal people feel appreciated and acknowledged to see our culture showcased throughout the hospital," said Ms Humphries, "which is already making a positive difference to the overall culture of the hospital,"
The community aspect of the project extended to staff who were invited by Aboriginal artist Troy Bennell to contribute hand prints to the brightly painted bollards at the entrance to the hospital.
"It's also been a different way of educating non-Aboriginal staff and visitors, particularly with the work depicting the different clan groups associated with the South West region," said Ms Humphries.
Mr Moffett praised all of those involved with the project and commended their innovative and creative use of art within the hospital.
"It's brilliant to see such a positive project and particularly to hear about the impact it's having on visitors, patients and staff at the hospital," said Mr Moffett.
Public sections of the Aboriginal art trail can be seen on site at Bunbury Hospital.