Exercise group a 'winner' according to the original Wheatbelt Wheezer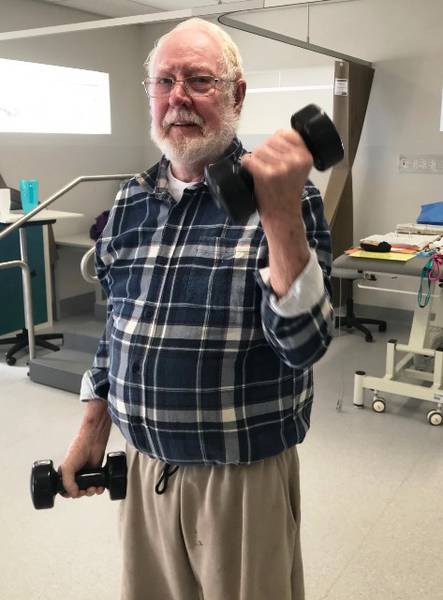 Northam resident Colin Easther is a big fan of the cardio respiratory exercise group.
An exercise group in Northam, specifically for clients with longstanding cardiac or respiratory issues, is so popular with one participant he keeps signing up for more.
The cardio-respiratory exercise group was set up by the WA Country Health Service Wheatbelt allied health team six years ago based on the fact that exercise and education-based programs benefit anyone with a long term heart or lung condition.
Local resident Colin Easther, who also established the 'Wheatbelt Wheezers support group' for anyone with a lung condition, is a strong advocate for the program.
"Quite simply, this class helps keep me alive!
"Exercising with this group has not only helped me improve my stamina but also my overall outlook particularly through winter, which is the toughest time of the year when you have a lung condition," he said.
Mr Easther, a former ships officer, was diagnosed with emphysema five years ago.
"I find exercising in a group is far more motivating than doing it solo because we're all in the same boat, supported by experts who know what we should and shouldn't be doing. "I also love the way we track our progress," he said.
Mr Easther is proud of the fact he can now complete 19 laps of the walking track (set up within the hospital) as part of the class compared to 13 when he first started.
Physiotherapist Joel Sharp who runs the program, which caters for up to two groups of ten people who meet twice a week for exercise and education, said it was rewarding to see how much the participants benefited from the classes.
Mr Sharp said the goal of the program was to teach participants how to manage their heart or lung condition, prevent further deterioration and maximise their ability to complete daily tasks.
"These classes are really helping our participants to improve their quality of life which is a great outcome," he said.
Mr Sharp said anyone interested should speak to their GP to discuss whether cardiopulmonary rehabilitation is appropriate for them.
For further information on the exercise group contact the Northam Hospital Physiotherapy Department on 96901320.