Faster stroke support for Goldfields residents via new telehealth stroke cart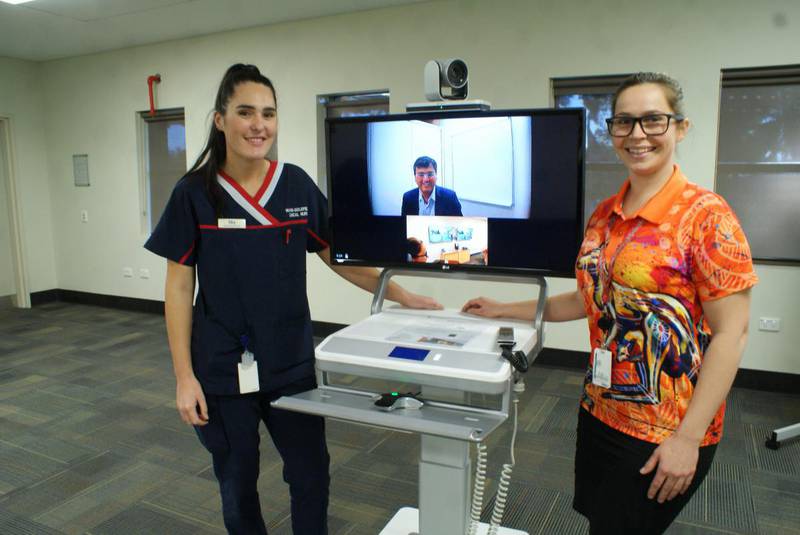 L-R: Sky Peterson: Kalgoorlie Health Campus Acute TeleStroke Project Officer and A/CN, Dr Darshan Ghia (on telecart): Consultant Neurologist, Fiona Stanley Hospital, Rochelle Harling: Goldfields Regional Stroke and Subacute Care Coordinator.
A new mobile telecart – located in Kalgoorlie Health Campus Emergency Department – will enable local clinicians to work side by side with specialist Stroke Neurologists in Fiona Stanley Hospital, ensuring Goldfields residents receive expert stroke treatment faster.
According to Perth based stroke specialist, Dr Darshan Ghia, services delivered via telehealth can prove lifesaving.
"Kalgoorlie's new telecart will enable me to see and assess patients quickly and talk to them and their families about treatment options," Dr Ghia said.
Sky Peterson, a Kalgoorlie local and clinical nurse at the health campus, said the telehealth service was vital to ensuring stroke patients were assessed as soon as possible.
"For many stroke patients, this can mean the difference between returning to normal life with mild to no ongoing effects versus enduring disability for the rest of their life," Ms Peterson said.
"The sooner a patient can be transferred to Perth for removal of a clot in their brain, the less brain tissue that dies, decreasing the likelihood of disability or death resulting from a stroke," she added.
The Goldfields is the third region in country WA to install a mobile telecart in its Emergency Department enabling virtual face-to-face TeleStroke consultations with Fiona Stanley Hospital Neurologists.
Access to Perth-based stroke specialists using telehealth is a game-changer for people living in country WA, who can now access time-critical, cutting edge stroke care.