Footballing doctor kicking goals for Bunbury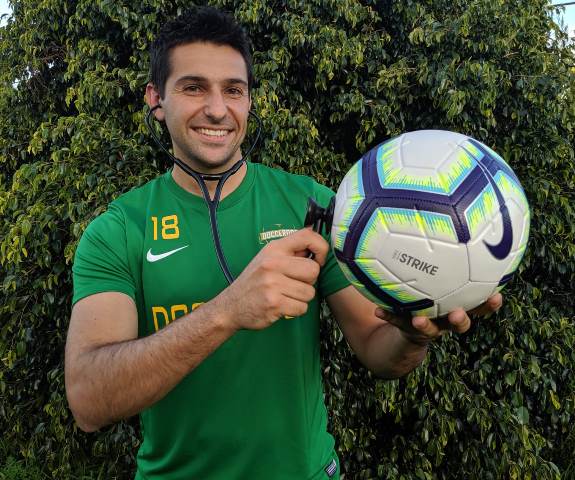 Dr Aaron Bahadori returned to Bunbury Hospital after competing in the World Medical Football Championship
Dr Aaron Bahadori, is not only a skilled resident medical officer at Bunbury Hospital but he is also a talented soccer player who capped off a recent performance at the World Medical Football Championship by taking home Australia's 'player of the tournament' award.
Dr Bahadori, who was born in England but grew up in Fremantle, has been working at Bunbury Hospital for the last two years since he completed medical studies at University of Western Australia.
He chose to remain in Bunbury after completing his internship because he said he likes the 'community feel' of a regional hospital.
"As junior doctors at Bunbury Hospital, we're fortunate to enjoy a great relationship with senior members of the medical staff who support us, treat us with respect and give us responsibility," he said.
Dr Bahadori said all of this makes Bunbury Hospital a great training ground for future clinicians and an excellent place to demonstrate his appreciation for the opportunities he's been given.
"At Bunbury Hospital I feel I can use all of the skills and knowledge I learnt in the metropolitan hospitals, but apply them in a setting where there's scope to make a real difference to patients.
"It's been the most amazing experience working in the region, and I would highly recommend it to others," he said
Dr Bahadori, who is interested in specialising in mental health in the future, has also found being part of the Medical Service Improvement program at WACHS extremely valuable.
In the meantime he will continue to indulge in his love of soccer away from work and he's looking forward to hopefully competing in a victorious Australian team at next year's tournament to be held in Argentina.