Forward works tender for redevelopment of Collie Health Service closes soon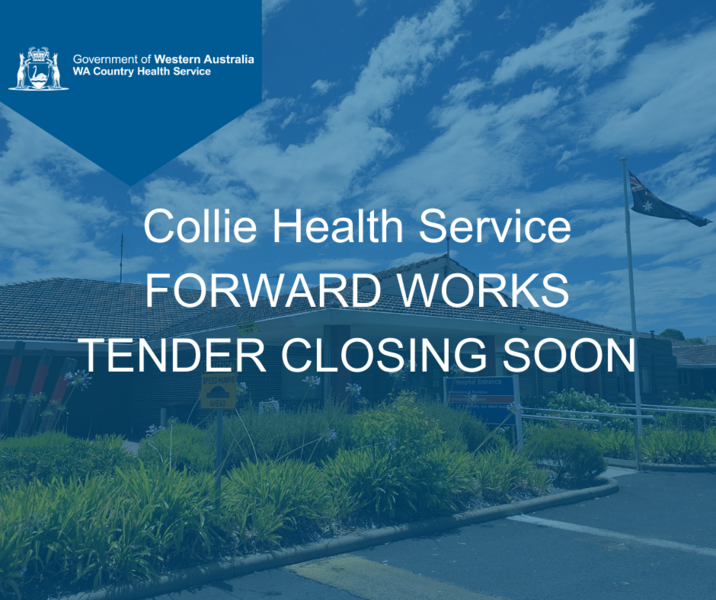 The forward works tender for the $12.2 million redevelopment of the Collie Health Service is set to close soon.
The package includes contemporary upgrades to the outpatient services at the ambulatory care department and a new communications room that will create service efficiencies.
The forward works will also ensure there is sufficient space available to accommodate the new operating theatre complex.
WA Country Health Service Regional Director Kerry Winsor said that hospitals play an important role in ensuring the health and wellbeing of communities, especially in the country.
"Redeveloping health services will provide greater access to quality services, supporting country people to take charge of their health with modern advancements," Ms Winsor said.
The site has also been prepared for the suite of main works set to go to tender later this year, with upgrades to the heating, ventilation and air conditioning plant delivered by local contractor Engie Mechanical Services.
Additional works as part of the $29.6 million allocated to WA Country Health Service from the State Government's Priority Maintenance and Minor Work Program are also progressing at the facility. They include an upgrade of the kitchen, replacement of the roof and upgrades to the heating, ventilation and air conditioning system.
The major redevelopment project will be informed by the Collie Health Service Community Reference Group, consisting of representatives from the community, District Health Advisory Council and members from the WA Country Health Service to ensure works meet local need.
"The completion of the preparatory works signals strong progress for the redevelopment of the Collie Health Service," Ms Winsor said.
"Ongoing consultation and collaboration opportunities such as having the community Reference Group will support us in delivering a facility that that gives our patients the best health experience."
The tender for the main works is expected to be released later this year.
This project builds on the recent $7.8 million redevelopment of the facility which was completed in 2017.