Kimberley nurse takes out 2019 WA Nurse of the Year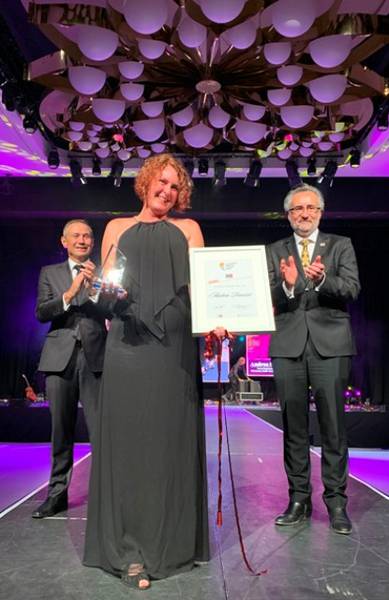 WA Nurse of the Year Andrea Rieusset pictured receiving her award
Andrea Rieusset, Nurse Practitioner in Emergency at Fitzroy Crossing Hospital, was last night named winner of the Excellence in Aboriginal Health category of the WA Nursing Midwifery Awards and 2019 WA Nurse of the Year.
Andrea has worked since 2005 in emergency departments in Broome and across the Kimberley and is the clinical lead for the Kimberley Family and Domestic Violence working group.
Andrea has worked tirelessly for women and children experiencing family and domestic violence in Kimberley communities, making a significant contribution to improving services and outcomes.
In 2017, Andrea undertook a carefully scoped, planned and researched audit of family and domestic violence presentations to the Emergency Department at Broome Hospital.
The recommendations from this audit informed the development of a comprehensive regional program for family and domestic violence, which was launched in September 2018 by the WA Country Health Service for health practitioners across the Kimberley.
Andrea says that she "hails from a long line of amazing, strong, independent and caring women" and is the third generation of nurses in her family.
"As a Nurse Practitioner in the Emergency Department, I work both independently and collaboratively with medical colleagues to assess, diagnose and treat a wide variety of patient presentations to the emergency department. I order appropriate investigations and diagnostic imaging as well as referring patients for specialist management, either in regional or tertiary centres. I also coordinate Royal Flying Doctor Transfers for patients in my care. I embrace holistic nursing values and tailor my care to meet the patient's physical and emotional needs within their social context," Andrea said.
"I undertook the work around family and domestic violence recognising that Kimberley populations face a higher prevalence of injury and associated homicide rates for FDV than women in other parts of the state. In identifying the unique barriers for responding to FDV in the Kimberley context, my work has sought to improve outcomes for women presenting with FDV – particularly for Aboriginal and high-risk women who suffer ongoing abuse. I am determined to make a difference to this extremely vulnerable population.
"The award is recognition and I appreciate that, however more importantly I hope this award will go some way towards highlighting the high prevalence of family and domestic violence in the Kimberley and the help that is available for people who find themselves in this situation."
Marie Baxter Executive Director of Nursing and Midwifery at the WA Country Health Service welcomed the win and said that Andrea was a very worthy winner of her category and the overall award.
"Andrea champions some of the most vulnerable communities in our State and she does so with passion and enthusiasm. She cares so much about every single person that she directly treats and about making a difference to the broader community.
"I am extremely proud that eight of the 12 winners in this year's awards are from regional WA. I believe that is a reflection of the quality of the people working in country health and the fact that our teams and services are at the very heart of the communities we serve."
The full list of WANMEA winners can be found at www.wanmea.com.au You can see all of the WA Country Health Service's 19 finalists here: https://youtu.be/eXVThBNgPEA