Northam Hospital Ladies Auxiliary donation means local men won't need to travel for prostate biopsies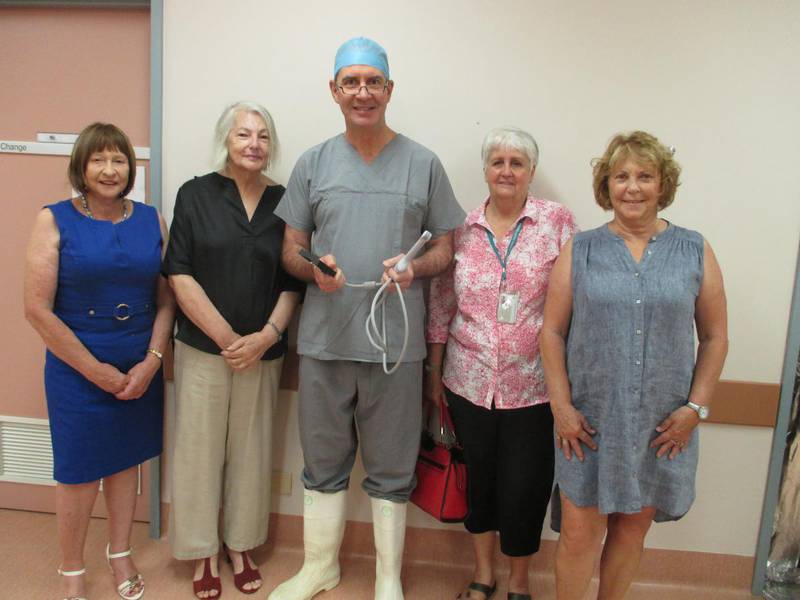 Dr Davies pictured with members of the Northam Hospital Ladies Auxiliary
The Northam Hospital Ladies Auxiliary never tire in their efforts to raise funds for their local hospital, recently donating a trans rectal probe to the Urology unit enabling Wheatbelt men access to prostate biopsies locally, saving them a trip to Perth.
Jennifer Lee, WA Country Health Service Acting Operations Manager, Western Wheatbelt, said that prior to receiving the additional equipment, local men would need to travel to Perth to have the biopsy procedure that could help diagnose them with prostate issues.
"The men in our community no longer need to wait on the metropolitan wait list and, depending on their diagnosis, can have earlier access to the next stage of treatment leading to better health outcomes," said Ms Lee.
"Some of the Ladies Auxiliary volunteers have been working with Northam Hospital for nearly forty years – they are very dedicated to helping us provide quality health services closer to home."
Through their efforts in the hospital kiosk, the Ladies Auxiliary raised over $11,000 which contributed to the cost of the new probe. "Our visiting urologist, Dr Robert Davies, now uses this probe, which attaches to the ultrasound machine in the hospital, to check men in the local community for prostate issues," Ms Lee added.
Sean Conlan, WA Country Health Service Wheatbelt Regional Director, said that the tireless work by volunteers of the Northam Ladies Auxiliary was greatly appreciated.
"They provide fabulous emotional support, tender loving care and access to a range of treats to make the hospital experience more positive for patients, visitors and staff," said Mr Conlan.
"Their generous donations also enable country hospitals to provide care closer to home." The Ladies Auxiliary has around 32 volunteers who work in the Northam Hospital kiosk five days a week and so far this year have raised more than $25,000 for the hospital to use towards additional medical equipment.