Partnerships lead to picture perfect Beverley health care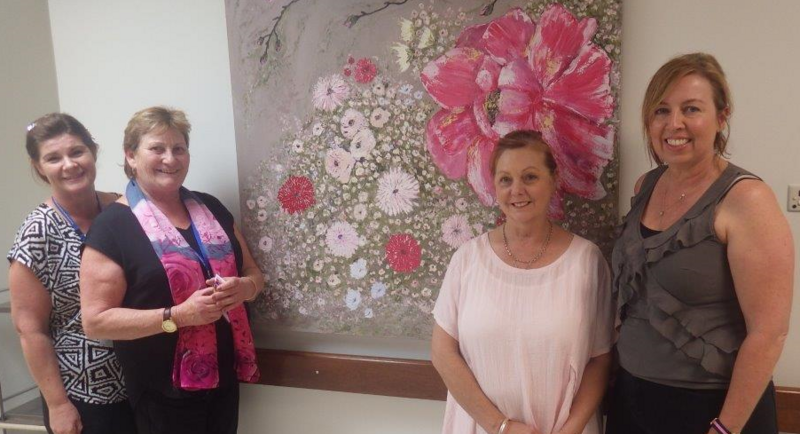 L-R - Anita Marzocchi, CHSP coordinator, Michelle Bauer HSM/DON, Marlene Willson (Beverley artist) and Larissa Atkinson, LHAG member.
Beverley Health Service has received a colourful makeover from local artist Marlene Willson following a partnership between the health service and the Local Health Advisory Group.
The partnership began with Michelle Bauer, Health Service Manager at Beverley Health Service, asking the Local Health Advisory Group how they could use art to make the hospital more welcoming and promote local residents in their artistic pursuits. Local artist Marlene Willson was recommended to liven up the walls of the hospital.
There are now 13 large, colourful paintings hanging throughout Beverley Health Service, including a lotus flower scene which the staff placed outside the palliative care ward so that patients can see it from their beds.
"The artwork has made such a difference to the hospital. It's made it more homely for our five permanent care residents and helped us to move away from being a hospital for sick people. We offer more than that and care about how our patients and visitors feel when they visit," Ms Bauer said.
97-year-old Stan Murray, long term resident of Beverley Health Service, was quite taken with the new artwork on the walls commenting that "they're pretty good."
Beverley artist Marlene Willson said she was delighted at being approached to hang her paintings on the walls of Beverley Health Service.
"I felt my paintings would give immense pleasure to the patients, staff and visitors and take the already caring and lively atmosphere of Beverley Health Service to yet another level," Ms Willson said.
"All art can give a person joy at a moment's glance and that's why I continue to make and share my art," she added.