Protea Lodge celebrates its first anniversary with Midwest cancer patients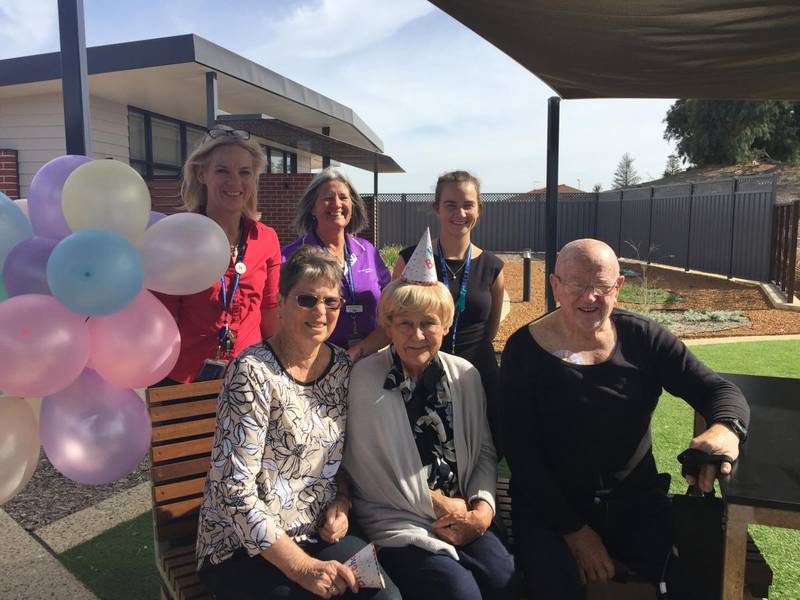 Back row L-R: Lindsey Richmond, Barb Stone and Brianna Criddle. Front row L-R: Meg Crake, Glenda Francis and Ross Crake.
Protea Lodge hostel officially opened one year ago and in that time it has provided a home away from home for 19 regional families whose loved ones were undergoing cancer treatment at the WA Country Health Service Midwest Cancer Centre.
The $1.38 million facility is located on Geraldton Health Campus, directly behind the Midwest Cancer Centre, ensuring easy access to cancer treatments, support, information and education for patients and carers spending time in the motel style units.
Ross Crake was the first guest at Protea Lodge when it opened last year. He and his wife are currently using the accommodation again while he receives chemotherapy for bowel cancer.
"Protea Lodge is so convenient – travelling from Leeman it's half the distance than if we had to travel to Perth plus there's no traffic to get here and it's new," Mr Crake said.
Glenda Francis travelled from Shark Bay to Protea Lodge with her husband while she is receiving chemotherapy treatment for lung cancer.
"Being able to stay in Protea Lodge is tremendous and it's closer to home than Perth," Ms Francis said.
"The facilities are wonderful.
"We've had a barbecue in the outdoor area and there are fresh herbs and vegetables growing in the garden that we can use," she added
WA Country Health Service Midwest Cancer Nurse Coordinator, Lindsey Richmond, said that Protea Lodge provided many opportunities to make a difference to patients and carers' quality of life and eased the burden of travel and accommodation at a time that is often very difficult.
"Access to Protea Lodge helps reduce the practical and psychosocial stressors that many of our travelling regional patients experience while undergoing cancer treatments and follow ups," Ms Richmond said.
"We are proud of the facility and strive to ensure the services provided are holistic and patient focused, meeting the needs of each individual patient or family accessing the facility," she added.
Since opening on 30 May 2018, Protea Lodge has provided accommodation for families from 12 communities across the Midwest, some staying multiple times throughout the year.
"What a privilege it was to celebrate Protea Lodge's first birthday with some of our patients and carers who have used the facility in the last year," Ms Richmond added.
Protea Lodge includes seven double rooms providing accommodation for cancer patients and their carers from remote Midwest communities.