Research shows screen time can be good for country health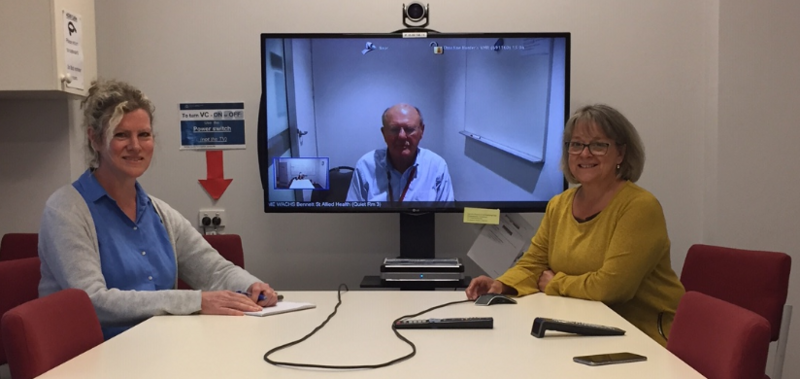 L-R: TeleGeriatrics research team: Louise Lillicrap, Clin A/Prof Peter Goldswain (Geriatrician), Christine Hunter.
WA Country Health Service research has proven that patients living in regional and remote areas of Western Australia who access specialist geriatrician services via videoconference experience improved health outcomes.
The research shows that TeleGeriatrics, a service which allows patients to access a metropolitan based geriatrician via videoconferencing without having to leave their region, is highly effective, resulting in the reduction of avoidable hospitalisations and considerable cost savings to both the health service and the patient.
In October 2017 a TeleGeriatrics service was added to the current visiting geriatrician model in the Midwest as part of a commitment from the WA Country Health Service to improve access and quality of health services for people in country WA.
Jeff Calver, WA Country Health Service Regional Director (Midwest), said the TeleGeriatrics service and visiting geriatrician model both saw reductions in emergency department presentations and hospital admissions for 12 months after an appointment, demonstrating the benefits of both models in regional areas.
"In comparison to the visiting geriatrician model, TeleGeriatrics has proven to be more effective at reducing avoidable hospitalisations and subsequent deterioration of a patient's health in the lead up to their appointment," Mr Calver said.
Both TeleGeriatrics and the visiting geriatrician model have delivered more than one million in cost savings to the health service.
"The new research tells us that TeleGeriatrics has reduced hospital bed days by almost 2,000, which is equivalent to freeing up five and a half hospital beds for an entire year.
"The addition of the TeleGeriatrics model in the Midwest has also shortened wait times for appointments, ensuring that most patients are seen before they need to be hospitalised.
"The WA Country Health Service covers one of the largest and most sparsely populated areas in Australia and telehealth enabled clinical services, such as TeleGeriatrics, allows us to increase access to specialist services to county residents as well as provide them with care closer to home.
"This research has demonstrated that a combination of face-to-face and teleconferencing models is the most efficient option for country patients," Mr Calver added.
The research was undertaken by the WA Country Health Service Great Southern Population Health team in partnership with the WA Country Health Service Aged Care Directorate.