TelePalliative Care in the Home service allows Midwest local to pass away peacefully at home with his dog by his side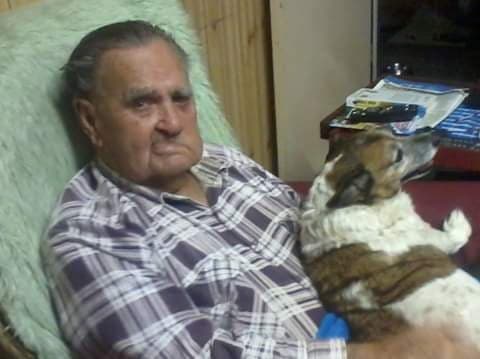 Shark Bay Resident William McClymans with dog Teddy
William "Nugget" McClymans had lived in the same Shark Bay home for 60 years and after being diagnosed with terminal congestive heart failure he received palliative care via telehealth to achieve his wish to die peacefully at home.
The WA Country Health Service TelePalliative Care in the Home service aims to provide care and support via telehealth during the terminal stage of life for patients who wish to die at home.
William's daughter in law and carer, Maureen Cross, said that William did not want to be in a hospital at the end and that he was pleased telehealth allowed him to be in his own home with his dogs.
"The Palliative Care team were brilliant and I couldn't recommend care via telehealth enough, said Ms Cross.
"They lent us an iPad to videoconference with doctors and the Palliative Care team for support when we needed it and it was so easy to use – just switch it on, pop in a password and help was there.
"They really took time to get to know me and William. He was even blowing kisses to the nurses through the iPad!
"When Williams's time came he was ready to go and we were both happy that he was in his own bed with his dog Teddy tucked up beside him," Ms Cross added.
Regional Palliative Care Coordinator in the Midwest, Robyn Ellis said that the WA County Health Service began the TelePalliative Care in the Home service in the Midwest in December 2018 with 24/7 support available to patients and carers.
"Since the commencement of the TelePalliative Care in the Home service the Midwest Palliative Care team have supported 22 patients via telehealth," said Ms Ellis.
The WA Country Health Service is pleased to offer telehealth services across regional and remote WA that mitigate the difficulties country patients and carers face in receiving access to regular medical and nursing support due to geographical distances.
National Palliative Care Week runs from Sunday 19 to Saturday 25 May 2019 and is an annual occurrence which aims to raise awareness and understanding about palliative care in the community.