Telehealth makes palliative care even more accessible in the Great Southern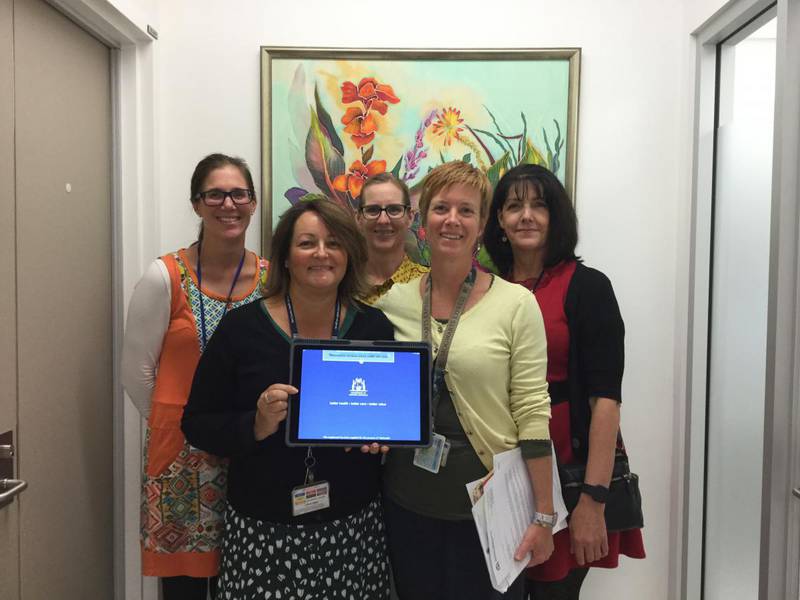 Tamara Button- Senior Social Worker, Cheryl Wisse- Palliative Care Admin Support, Claire Gray- Acting Clinical Nurse, Professor Kirsten Auret and Lesley Forrester- Regional Palliative Care Coordinator.
It is now easier for terminally ill patients in the Great Southern to access palliative care via telehealth in their homes by using their own device or by using a loan iPad from the regional palliative care team.
All major hospitals in the Great Southern will have iPads with 4G internet connectivity ready to lend to palliative care patients to ensure all patients and carers in the region have access to the TelePalliative Care in the Home service.
The WA Country Health Service - Great Southern Regional Palliative Care Coordinator, Lesley Forrester, helped to develop the TelePalliative Care in the Home service which launched in the region in February 2019. Ms Forrester said that she will be visiting each site equipped with loan iPads to ensure they have the appropriate knowledge of the telehealth software to best support patients and families in their own homes.
"Our aim is to help people receiving palliative care to stay at home for longer and if they want to die in their own homes to give them that opportunity," said Ms Forrester.
"We strive to deliver what's important to the patient and their family; this is sometimes as simple as having to travel less to see health professionals which can be achieved through the use of telehealth.
"TelePalliative Care in the Home and the loan of iPads when needed will ensure palliative care is accessible to everyone in the Great Southern, not just those who live close to Albany Health Campus," she added.
Rebecca Weadon, Acting Regional Telehealth Coordinator, Great Southern was also instrumental in the development of the Great Southern's TelePalliative Care in the Home service.
"There is a multitude of experienced, committed and talented clinicians working in the regions and the telehealth service allows country residents to access advice and support without having to travel into a regional centre or to Perth."
"It's been great working with the Great Southern Palliative Care team to see telehealth integrated as just another aspect of the healthcare package available to our regional patients," Mrs Weadon added.
The WA Country Health Service is pleased to offer telehealth services across regional and remote WA that mitigate the difficulties country patients and carers face in receiving access to regular medical and nursing support due to geographical distances.