Telehealth innovation saves Halls Creek locals with ear conditions from travelling 700km for specialist care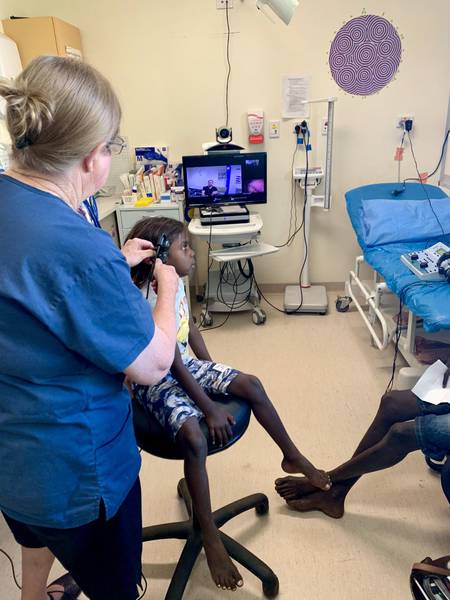 WA Country Health Service Halls Creek Practise Nurse Jenny Vink and five-year-old Letizah McDonald.
Five Halls Creek residents scheduled to attend Kununurra Hospital for postoperative reviews by WA Country Health Service ear, nose and throat specialists were instead able to do so at their local hospital, saving them the need to travel more than 700 kilometres.
This service was made possible through the use of telehealth and a commitment from local clinical staff to provide quality care closer to home for the local community.
A critical component of the new service model focuses on building and maintaining capacity of local clinical staff to conduct ear and hearing tests that a specialist requires to assess a patient following ear surgery.
Using real-time videoconferencing technology, the Halls Creek Practice Nurse Jenny Vink was able to conduct ear and hearing tests on local patients under the guidance of ear, nose and throat specialists located in Kununurra.
"The families we have seen have been really happy with seeing the doctor via telehealth - it's easier for them to get here and they all know us," Ms Vink said.
The new model has been developed through a collaborative approach by Halls Creek and Kununurra hospital staff, the Kimberley Ear Health Coordinating Panel, Kimberley Telehealth and ear health teams.
Sandra Rivers, who attended the clinic with six-year-old Hendrix Ramsey, said that having the clinic close by has meant that Hendrix hasn't needed to miss school.
"Staying local is much better for us; I don't need to take any time off work and Hendrix doesn't need to miss school," Ms Rivers said.
"The doctor is really clear on the TV and easy to hear.
"Telehealth has saved us two trips to Kununurra already, we think it's great," she added.
In a single day, a WA Country Health Service ear, nose and throat clinician is able to virtually travel to Halls Creek and back without leaving Kununurra Hospital, equating to approximately eight hours of travel time saved and the opportunity for more patients to be seen.
Jackie McDonald who also attended the Halls Creek clinic with her daughter Letizah remarked the telehealth service was "just as good as seeing the doctor in person."
"I've told my cousins to ask if they can see the doctor via telehealth too instead of travelling to Kununurra," she said.
Telehealth enabled clinical services is just another way the WA Country Health Service is increasing access to specialist services and providing care closer to home for country residents.