WA Country Health Service honoured with inaugural Patient Opinion Award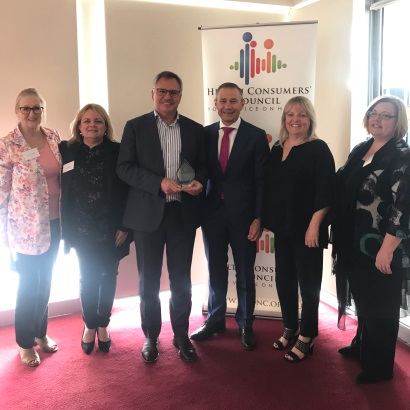 WA Country Health Service Chair accepting the award.
The WA Country Health Service (WACHS) took home the inaugural Patient Opinion Award for dedication to improving patient experience at the annual Health Consumer Excellence Awards on 30 April 2019.
The accolade was awarded based on consumer feedback submitted to the Patient Opinion platform and was presented by Executive Director of the Health Consumers Council Pip Brennan and Patient Opinion CEO Michael Greco.
The WA Country Health Service's A/Chief Operating Officer, Margaret Denton said she was delighted the organisation received acknowledgement for its commitment to patient centred care, whilst recognising there was always more work to be done.
"Whether patient feedback is good, bad or indifferent we've demonstrated our commitment to listening and learning and will continue to do so," Ms Denton said.
"We really encourage all our staff – from doctors and nurses right through to support services – to actively seek feedback.
"We don't shy away from the negative either – for us, it's an opportunity to learn and improve," she added.
The award win comes as health service providers across the state celebrate Patient Experience Week – a global event that focuses on celebrating the people who impact patient experience daily.