Warren staff branch out for R U OK day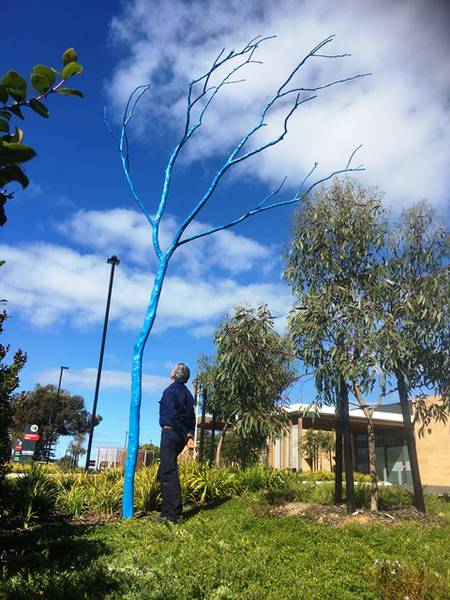 A community gathering at the launch of the blue tree.
Warren Health Campus staff have taken an innovative approach to promoting a positive mental health message by installing a blue tree outside the main entrance.
A/District Manager for Warren District Hospital Jodie Omodei said the blue tree project aimed to prompt conversations about mental health, including depression, particularly in the lead up to R U OK day on September 12.
"As a striking new addition to our Campus grounds, the tree is an obvious talking point in the community and a great way to raise mental health issues when someone asks why is there a blue tree here?" said Mrs Omodei.
"We hope it will encourage people to check in on their friends and family, and raise issues they may not generally feel comfortable discussing," she said. "We all need to look out for each other and encourage anyone who's struggling to seek help."
Staff held a morning tea at the Campus last week to launch the blue tree and promote awareness about the project within the community.
Flyers within the Campus include contact details for organisations who can offer support to anyone struggling with a mental health challenge.
"It has been great to see so many staff pitch in and enthusiastically lend a hand with this initiative. "Some of our telehealth, palliative care, fleet car and maintenance staff (to name a few) have all been involved in the washing, debarking and painting of the tree before it was installed," said Mrs Omodei.
WA Country Health Service Operations Manager for Inland Jeremy Higgins commended all of the staff involved in the blue tree project for their initiative.
"This is another example of the creativity our staff demonstrate in going the extra mile to care for our Warren Blackwood community members," said Mr Higgins.
"It's a clever and strikingly simple tactic to prompt conversations which can have a powerful and positive impact," he said.