Wheatbelt clinicians receive emergency medicine training to help save country lives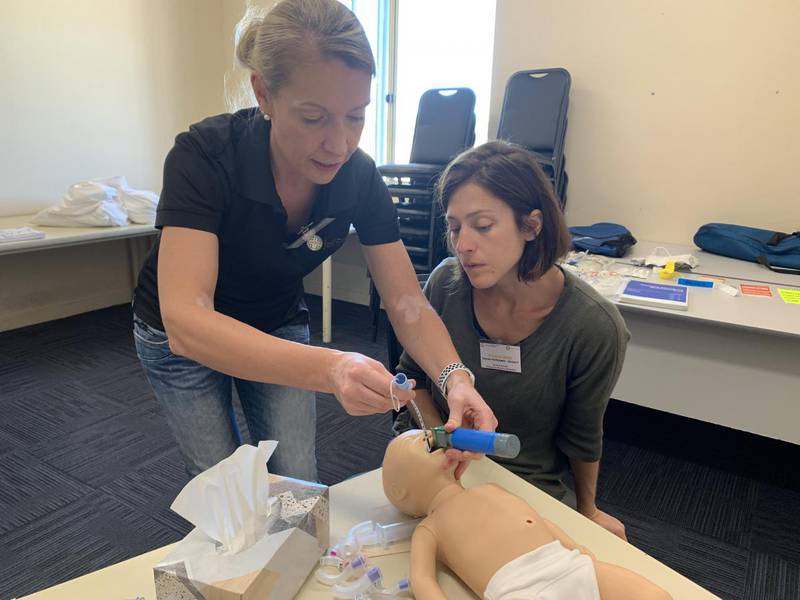 Dr Stephanie Schlueter and Dr Leena Bayly during the workshop.
As life-savers in the Wheatbelt, local doctors and nurses are always up-skilling by participating in training such as the recent Rural and Remote Emergency Medicine Skills workshop in Merredin to ensure they continue to provide the best possible care to those rushed to country emergency departments.
The two-day workshop was led by the WA Country Health Service Emergency Medicine Education and Training team, providing education and training to 24 doctors and nurses to broaden and strengthen their existing skills in caring for patients requiring emergency care in country WA.
Dr Stephanie Schlueter, the Emergency Medicine Education and Training lead developed the workshop in 2016, with the aim to support rural health professionals to confidently and effectively deliver emergency care and build networks with both metropolitan and country colleagues.
"Through the delivery of "real life" simulation scenarios and skills stations, participants are provided with a safe and supportive learning environment to practice and hone their emergency medicine skills," Dr Schlueter said.
"Covering everything from paediatrics to adult emergencies, including severe traumatic brain injuries, the program enables a high standard of patient care ultimately improving outcomes for our patients in rural and remote areas.
"Rural and remote health professionals have told us that they really appreciate emergency medicine training travelling to country WA enabling easier access to high level, inter-professional learning without having to leave their town or region," she added added.
The delivery of this comprehensive education and training program across country WA is made possible through the Emergency Medicine Education and Training program - a national initiative administered by the Australasian College for Emergency Medicine and funded by the Commonwealth Department of Health - and a passionate and dedicated inter-professional team of clinicians and educators supporting Dr Schlueter in this undertaking.