Geraldton-born artist contracted to undertake works at Geraldton Health Campus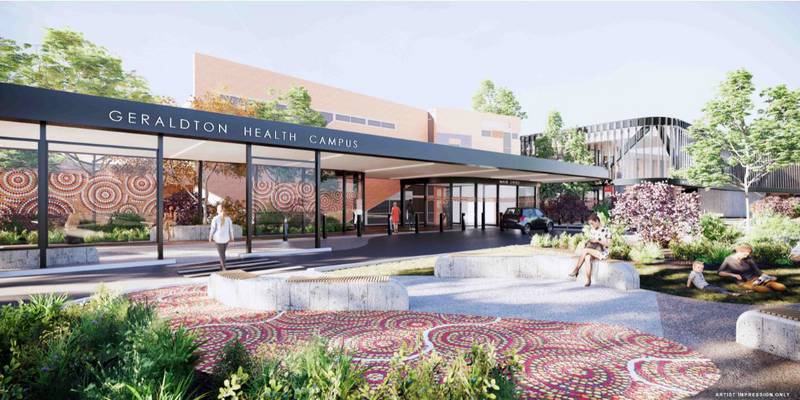 Artist impression of Geraldton Health Campus following redevelopment.
The $73.3 million Geraldton Health Campus redevelopment is progressing well with Western Australian artists selected under the State Government's Percent for Art Scheme to deliver the healing power of art within the revamped facility.
'Wild by Midnight', an artist group comprising Leanne Bray, Phil Gamblen, Dawn Gamblen and Peter Gee, has been successful in securing the 3D art tender.
Mark Datodi, Kamsani Bin Salleh and Geraldton born Yamaji Nhanda, Wajarri/Noongar Yuad and Wongi Ngadju man Charles Mallard have been contracted to undertake the 2D artworks.
WA Country Health Service Midwest Regional Director Karen Street remarked on the importance of ensuring the facility is welcoming and culturally appropriate.
"We have engaged with Western Australian artists to develop 2D and 3D artworks that represent the Midwest region," Ms Street said.
"I was particularly pleased to see a Geraldton born Yamaji Nhanda, Wajarri/Noongar Yuad and Wongi Ngadju man among the successful artist groups who will be delivering 2D artworks at the facility."
Both artist teams will be coordinating extensive community engagement to ensure Midwest residents and groups have input into the final art pieces prior to installation.
Consultation is anticipated for mid-2021 with artwork designs expected to be finalised towards the end of 2021.
Forward works for the redevelopment, including an ambulance entry on Shenton Street, reconfiguration of the main entry to the hospital, and two new carparks, are set to be completed in the first quarter of 2021.
"I am pleased with how the Geraldton Health Campus redevelopment is progressing – in November 430 parking bays currently for government vehicles and after hours and on-call staff reached completion. As construction progresses, these bays will be made available to the community in the coming months."
"The portion of the forward works currently underway will provide access to more parking for patients and visitors to Geraldton Health Campus."
Work on the roof of the Aged and Community Care Service building is currently underway as well as the realignment of the Milford Street entry which has improved hospital access with a wider, straighter and closer entry to the west side of the hospital.