Renal dialysis services available at Northam Hospital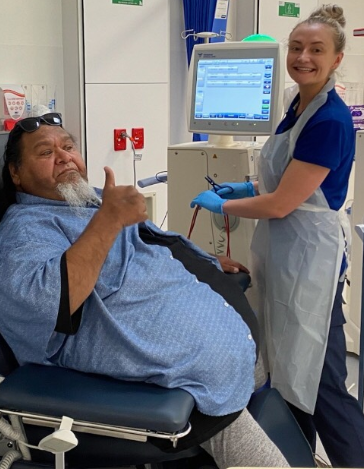 First Northam Hospital Kidney Dialysis Unit patient Kimberley Spratt with Registered Nurse Maddison O'Brien.
Northam Hospital's dedicated Renal Dialysis Unit is open.
Run by Fresenius Kidney Care, the four chair satellite dialysis outreach service in the newly redeveloped hospital is equipped to provide the Wheatbelt community with renal dialysis services on country and close to home.
Before establishment of the life-sustaining service, six Wheatbelt residents were commuting to the metropolitan area up to three times per week for dialysis treatment, now they can experience the convenience of receiving the health care they need without the burden of travel.
WA Country Health Service Region Director (Wheatbelt) Rachele Ferrari said the addition to Northam Hospital's $42 million redevelopment would mean some renal patients no longer needed to worry about travelling for dialysis treatment.
"We know that receiving healthcare close to home can result in positive health outcomes which is why it's important to enable Wheatbelt people increased access to high-quality medical care close to home," Ms Ferrari said.
Initially operating Monday, Wednesday and Friday, the facility has the capacity to expand its service to six days per week to ensure Wheatbelt locals have adequate access to nearby care.