WA Country Health Service pilot makes child health checks easier for Bunbury parents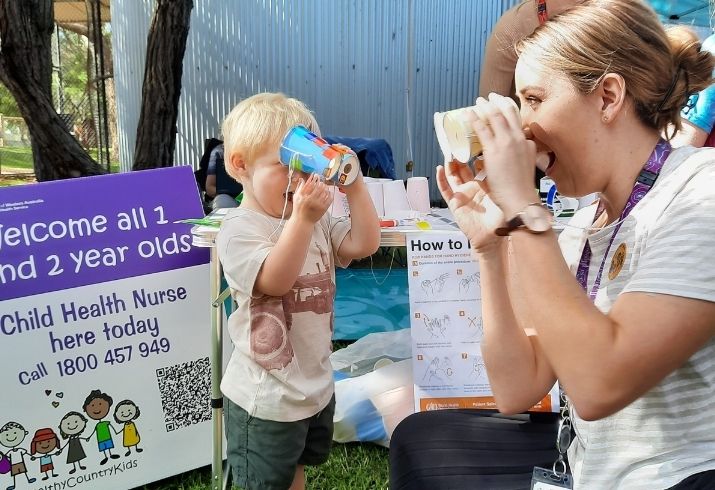 Carmi Louw, WA Country Health Service Speech Pathologist with South West toddler.
WA Country Health Service (WACHS) South West child health nurses are working with community partners to make universal child health checks for one and two year olds more accessible to families in the Greater Bunbury region as part of a pilot project.
In addition to existing child health clinics, parents and carers are now able to meet WACHS child health nurses at convenient locations such as local childcare facilities, Bunbury Library, play groups, GP clinics, early learning centres, primary schools and Dalyellup Community Centre.
WACHS Clinical Nurse Specialist Karina Ayers said the additional locations were working to increase accessibility and helping to address the low percentage of one and two year olds who present for screenings.
"Universal child health checks are very important as they can help identify if one and two year olds are on track with talking, playing, eating, moving, sleeping and toileting, and make sure they are ready to learn at school," Ms Ayers said.
"In 2019-20, 60 per cent of one year old children attended their WACHS universal child health check and 43 per cent attended when they turned two."
"This pilot aims to increase those figures by making it more convenient for parents and carers to get their little ones checked so we can work with them on achieving important development milestones in communication, physical development, problem solving and social-emotional wellbeing."
"We can even meet with families in their own home depending on their needs."
One is the ideal age to teach new skills such as first words, eating independently and learning boundaries and age two is the ideal time to promote development and learning to get children ready for school.
Universal child health checks are free and WACHS child health nurses can refer families to other health professionals who specialise in child development such as speech pathologists, physiotherapists, audiologists, occupational therapists, dieticians and social workers, when needed.
Parents and carers of one and two year olds in the Greater Bunbury region are encouraged to phone 1800 457 948 or SMS 0428 878 521 to book their child in for a universal child health check.