Innovative technology a winner with South West stroke survivors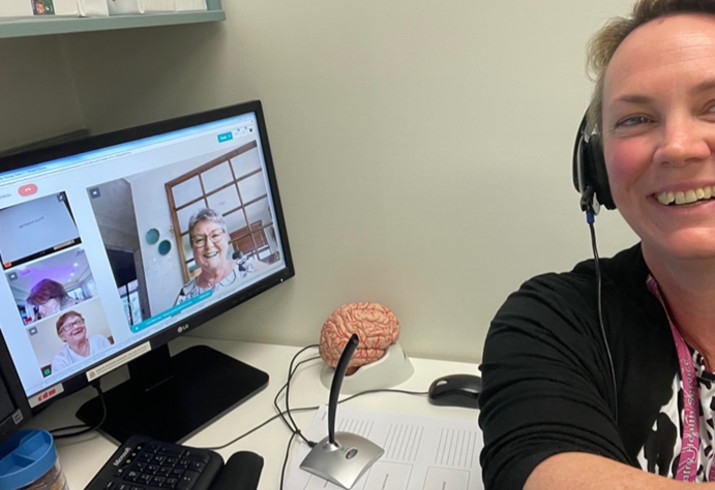 For Boyup Brook resident Ros Fisher, access to a loaned iPad from her regional stroke service proved to be a communication lifeline.
Ros was able to participate in her six-month speech rehabilitation program from the comfort of her own home, saving her the time, money and stress associated with traveling to appointments.
"When I have previously had to travel to hospital for appointments it would take up my whole day and leave me exhausted by the time I got home."
A self-confessed technophobe, Ros admitted to being apprehensive prior to her first virtual session.
"I had never used an iPad in my life and was a little bit nervous about it but once I got the hang of it, it all just worked out. I would set it up before each appointment and log into the virtual waiting room ready to go."
A service that Ros said she would highly recommend, particularly for older, regional residents.
Coordinated by Senior Stroke Speech Pathologists and Stroke Allied Health Assistants, the 12-week virtual rehabilitation sessions aimed to provide a safe and fun environment for stroke survivors.
"Communicating can be a common challenge following a stroke," explained WA Country Health Service (WACHS) Senior Speech Pathologist Jessica Clews.
"This online therapy group was specifically designed for stroke survivors with aphasia (language impairment) but can also be used for patients who have dysarthria (slurred speech) and dyspraxia of speech (speech motor planning difficulties).
"Telehealth allows people to access therapy, practice their communication and network with others in a similar circumstance from the comfort of their own home, regardless of their location, as long as they have good internet connectivity.
"Feedback was extremely positive with members commenting that they looked forward to their weekly sessions."
Using technology to provide quality care closer to home for country people is a key priority for WACHS.
The introduction of TeleRehabilitation for stroke patients in the South West has the potential to improve many lives. An estimated 27,428 Australians experienced a stroke for first time in their lives in 2020 with regional Australians 17 per cent more likely to suffer a stroke than those living in metropolitan areas.*
In 2020, almost 33, 000 outpatient appointments** were delivered via telehealth in regional Western Australia.
*The Stroke Foundation report 2020.
** Telehealth Non-Admitted data collection (scheduler). This includes attended video conference appointments; it does not include telephone appointments or activity captured in CHIS or Mental Health systems.