Residents from the Warmun Remote Community roll up to receive the COVID-19 vaccine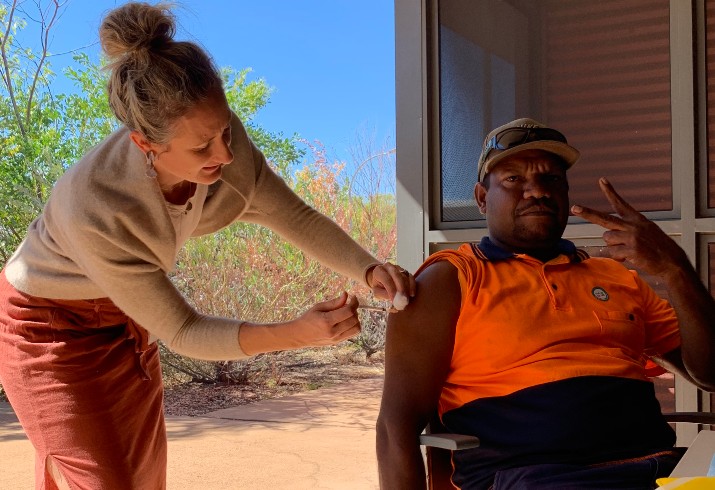 Warmun Community member Luke Banks being vaccinated by Steph Whitwell, Vaccination Nurse from Kununurra COVID-19 Vaccination Clinic
A vaccination team from the WA Country Health Service (WACHS) has teamed up with the Royal Flying Doctor Service and Warmun Community Council to deliver Warmun Remote Community's first COVID-19 vaccination clinic.
More than 200 residents from the East Kimberley community visited the clinic for their first dose of the vaccine.
Earlier in the week, our Kimberley Aboriginal Health Promotion team – led by Matt Taylor – visited the community to yarn about the importance of being vaccinated, and bust myths about the vaccine.
The success of the clinic was made possible thanks to Dr Cath Engelke, Warmun CEO and Council Members, Warmun Clinic staff, and most importantly the Warmun Community.
Emma Croager, WACHS – Kimberley COVID-19 Vaccination Program Lead, said bringing the vaccine to remote communities is a vital step in the vaccination rollout.
"There are more than 200 remote Aboriginal communities in WA and residents of these communities are more vulnerable to COVID-19," she said.
"WA Country Health Service is committed to making it easier for remote communities to access vaccines closer to home."
All Aboriginal and Torres Strait Islander people 16 years and over are eligible to receive a vaccination.
For a full list of eligibility criteria, and more information about WA's vaccine rollout, visit HealthyWA.