Boddington Hospital's palliative care boost from the Ladies Auxiliary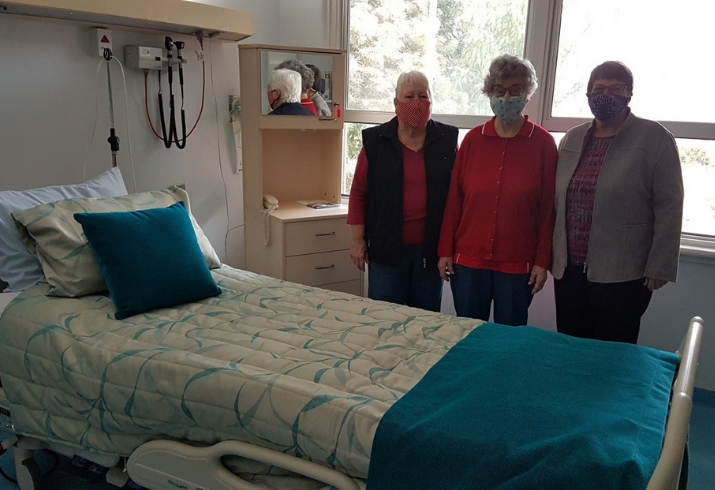 Boddington Hospital Ladies Auxiliary members with new palliative care bed.
Boddington Hospital has been gratefully receiving the fruits of the Boddington Hospital Ladies Auxiliary's fundraising efforts since they began their charitable service in the 1950s – the latest gift being a specialised palliative care bed.
The group has been raising funds to support the purchase of equipment, furnishings and renovations for the hospital by selling clothing and other goods in a charming local op-shop.
WA Country Health Service (WACHS) Regional Director – Wheatbelt – Rachele Ferrari said that over the past 18 years, the Auxiliary had contributed more than $300,000 to Boddington Hospital.
"We have been able to use these funds to purchase specialised medical equipment such as a slit lamp microscope for eye exams and an ultrasound scanner, as well as furnishings to make our patients' stay in hospital more comfortable," Ms Ferrari said.
"The Auxiliary's recent gift of a specialised palliative care bed offers maximum support and comfort for the patient and allows their family to provide comfort to them from close quarters."
"The VersaCare Hill-Rom bed provides pressure support relief, assisted positioning such as sitting which aids in patient turning and repositioning, and safety with a three-level bed alarm."
WACHS offers specialist palliative care services in the Wheatbelt to assist and improve the quality of life of patients and their families with life threatening illness.
The WACHS Wheatbelt Palliative Care team work closely with the General Practitioner to identify and relieve unnecessary suffering and distressing symptoms, and provide physical, psychosocial and spiritual comfort to patients and their families.
The Boddington Hospital Ladies Auxiliary expressed a desire to assist WACHS to support community members with terminal illness to remain in their own homes and communities for as long as possible, and to provide a family orientated, "home style" ward during the end phase of their lives, should they need it. Families are encouraged to stay in the comfortable facilities.
"The volunteers of the Boddington Hospital Ladies Auxiliary came up with the idea of converting a traditional hospital ward into a more family style space, where families could stay in comfort during their admission."
"The ward was renovated, and furnishing, including the new VersaCare Hill-Rom bed, purchased to fit with the family-centred model of care."
Ms Ferrari said that feedback from families had been positive, with many commenting that the Boddington Hospital staff treated them like family.
With the support of the WACHS Wheatbelt Palliative Care team, the General Practitioner, Boddington Hospital Ladies Auxiliary and the staff of Boddington Health Service, people in the Boddington community and surrounds, can experience comfortable and high-quality palliative care.
"Donations we've received are in addition to the more than $1 million WACHS has recently committed to spend on minor works and maintenance to the hospital."