Augmented reality keeping culture at Northam Hospital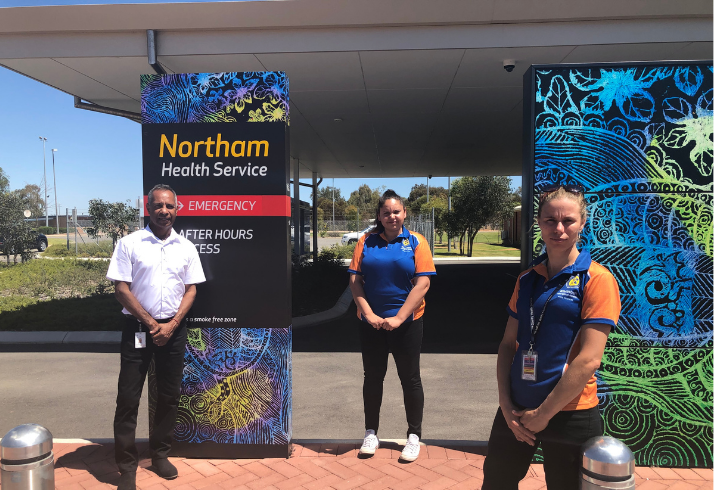 Rodney Garlett Aboriginal Health Coordinator, and Danika Tager Health Promotion Officer at Northam Health Service.
WA Country Health Service (WACHS) is investigating how cutting-edge digital technology could improve Aboriginal people's experience of healthcare at Northam Hospital by bringing culturally safe and appropriate communications straight to smart devices.
The 'augmented reality' project aims to allow Aboriginal people to point their devices at symbols around the hospital to activate audio-visual content containing important patient and cultural information such as Welcome to Country, support services contacts, cultural stories and songs, emergency department process and waiting times, and even food and drink services.
WACHS Regional Director Wheatbelt Rachele Ferrari said the innovative project is being developed with the Northam Aboriginal community for use by the Northam Aboriginal community.
"We created a safe place for our community members to share their experiences and opinions of using our health service and with this valuable information we determined topics of importance for the augmented reality tool," Rachele said.
The project was a finalist in the Health Consumer Excellence Awards 2021 for its work to deliver better health outcomes for Wheatbelt Aboriginal consumers.
"This project is another example of how we are bringing WACHS staff and Aboriginal community members together to combine their knowledge for a common goal."
The tool is currently in development and will be reviewed by the community and the Wheatbelt Aboriginal Health Advisory Council prior to being made available to the local community.
WACHS is proud to be the lead health agency in regional Western Australia and the co-lead agency responsible for improving health outcomes in all Aboriginal people in Western Australia.