South West's first Emergency Medicine Diploma graduate bolstering other doctors' educations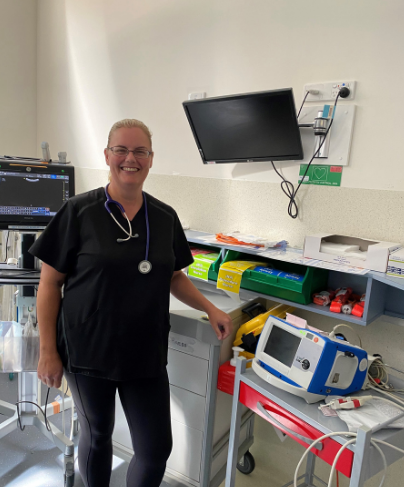 Dr Juliette Blackburn.
WA Country Health Service (WACHS) South West Dr Juliette Blackburn's love of medicine and expanding her knowledge has spanned years and crossed continents and led her to become the first doctor in the South West to achieve a coveted Emergency Medicine Diploma (EMD).
The respected Australasian College of Emergency Medicine (ACEM) qualification is an 18-month competency-based training program conducted in the workplace involving an extensive curriculum and comprehensive assessments to strengthen doctors' emergency care ability.
Dr Blackburn said she was working between Bunbury and Busselton Hospital's emergency departments while completing her diploma.
"A few years after graduating medical school in South Africa and immigrating to Australia I found I enjoyed working in rural emergency medicine so much that I wanted to further my education," Dr Blackburn said.
"Before EMET made the diploma available to us in the South West it wasn't the right timing for me to move my young family to the city to complete specialist training."
"When the Emergency Medicine Certificate (EMC) course pilot was announced in 2010 I applied immediately as I did when the EMD was offered about a year later and I'm proud of being the first South West doctor with this achievement under their belt."
Dr Blackburn was supported by a specially trained ACEM supervisor, Dr Marten Howes, among other WACHS colleagues.
"I have supervised around 10 WACHS employees with their ACEM certificate and diploma training," Dr Howes said.
"I supported Juliette as she worked through various goals, gaining more knowledge and confidence which has allowed her to become a more rounded, complete and mature senior practitioner."
Dr Blackburn has since completed further training and is now the only non-specialist ACEM approved supervisor in the South West equipped to support other trainees.
"I am currently supervising six EMC candidates and one EMD candidate," Dr Blackburn added.
"I am proud to be a diplomate and supervisor - it has been a very enriching experience in my medical career."

"This experience has improved my patient care as well as my understanding of emergency medicine and I look forward to continuing to provide both medical expertise and supervision in the South West and other regional areas of WA for many years to come."
Since Dr Blackburn's diploma success, two more South West emergency department doctors have completed their EMD and a further six in the region are currently studying for it.
The EMD and EMC are affiliated with WACHS's Emergency Medicine Education Training program which has been running in the South West since 2012. It is developed and delivered at rural training sites by a local ED Specialist (FACEM - a Fellow of Australasian College for Emergency Medicine).