Moora celebrates World No Tobacco Day (ngamari) smoke free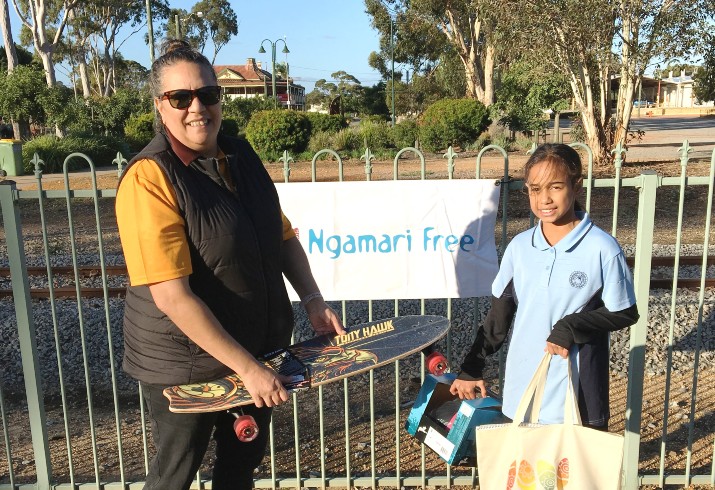 WA Country Health Service Wheatbelt Tackling Indigenous Smoking program team member Kelly Prior with Shonique Indich.
The WA Country Health Service (WACHS) Tackling Indigenous Smoking (TIS) team celebrated World No Tobacco Day with a ngamari (smoke) free Block Party event for the Moora community.
More than 100 students from St. Joseph's School, Moora Primary School and Central Midlands Senior High School attended to participate in TIS run educational activities encouraging healthy lifestyle choices such as healthy eating, limiting sugary drinks, treating each other with respect and being ngamari free.
WACHS Health Promotion Officer Kelly Prior coordinated the community event full of TIS tobacco education activities such as the "Clever Catch Circle" which gave students the chance to ask questions about the harmful effects of smoking.
"The Wheatbelt TIS team aim to create a ngamari free future for all Aboriginal people living in the Wheatbelt through community engagement, promoting quit support, education, supporting ngamari free environments and events," Ms Prior said.
"The TIS Block Party in Moora was a great opportunity to raise awareness of the harmful and dangerous effects tobacco has on individuals and the community."
"It was also a chance to showcase how the WACHS TIS team is supporting communities to live a happy and healthy ngamari free lifestyle."
Recreational activities such as skateboarding, bike and scooter workshops run by Freestyle Now also sported TIS's ngamari free messaging and after these sessions, students came together with coaches to speak about how they can have a healthy and active lifestyle.
"All students participated in the activities with enthusiasm and positive minds with some describing it as the "best day ever"," Ms Prior added.
The Block Party event was run by the WACHS Wheatbelt Aboriginal Health Service (WAHS) TIS team with support from the Moora Community Resource Centre, Avon and Community Youth Services, WA Police and Shire of Moora.
For more information about upcoming events or for support to quit or reduce smoking please call your local WACHS WAHS team:
Avon and Central: (08) 9690 2888

Eastern: (08) 9081 3376

Southern: (08) 9881 8319

Western: (08) 9651 0294