Pingelly community come together for a healthy World No Tobacco Day and Reconciliation Week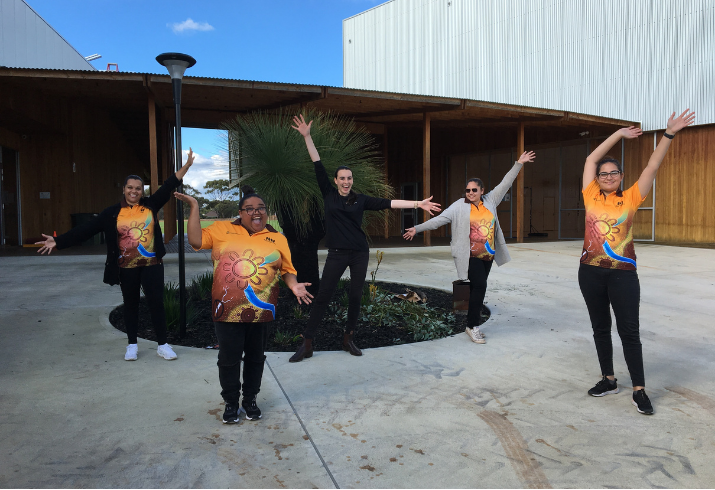 Kristy Jetta, Connie Yarran, Zoe Ashby-Deering, Alyssa Thompson and Kelsey Osbourne from the WA Country Health Service Wheatbelt Aboriginal Health Service team
To raise awareness of the importance of a smoke free life and to commemorate National Reconciliation Week, the team behind the WA Country Health Service's (WACHS) Tackling Indigenous Smoking (TIS) program brought the Pingelly community together for a World No Tobacco Day and Reconciliation walk.
160 Pingelly Primary School students and community members united on 3 June to walk from the primary school to the Pingelly Recreational and Cultural Centre. The journey was decorated with ngamari (smoke) free and reconciliation banners handcrafted by local students.
WACHS Regional Director Wheatbelt Rachele Ferrari said that Aboriginal people's spiritual connection to country is a significant factor in how, where and when an Aboriginal person may seek – or decline to seek – medical care or prevention programs.
"As the lead health agency in regional Western Australia WACHS is striving to make Aboriginal health everyone's business and we continue to deliver culturally appropriate programs in the Wheatbelt, like the TIS program, to improve the health and wellbeing of our Aboriginal communities," Ms Ferrari said.
"Gatherings like the World No Tobacco Day and Reconciliation walk, which included a smoking ceremony and welcome by local Elder Janice Kickett, a dance workshop by the Bigrada dance group and a moving school choir performance of "I am Australian" sung in Noongar language, gives our community the opportunity to feel connected to country and culture."
WACHS Wheatbelt Aboriginal Health Service (WAHS) Health Promotion Officer and local Noongar man Malcolm Jetta shared a poem he wrote about the history of the High Court Mabo decision, reconciliation movement and the impacts that racism has on cultural identity.
Students were given the opportunity to participate in leadership and resilience activities and learn ways to be ngamari free.
"Our TIS team also delivered kaartidjin ngamari (tobacco education) sessions around the harms of smoking and second-hand smoke based on the popular "Drop That Smoke" music video they developed with Indigenous Hip Hop Project. Students also created a range of posters and slogans for future TIS campaigns," Ms Ferrari added.
"Coming together to celebrate culture, educate the community and develop a greater awareness of culturally secure health programs is vital to move towards closing the life expectancy gap between non-Aboriginal and Aboriginal people in WA."
"By providing our Wheatbelt Aboriginal people with opportunities to engage with evidence-based prevention and early intervention initiatives and the knowledge and skills to choose healthy lifestyles to support good health and wellbeing we hope our Aboriginal people can keep their futures happy, healthy and ngamari free."
WACHS's WAHS garnered the support of local community organisations Shooting Stars, Moorditj Youth Foundation Aboriginal Corporation, Pingelly Primary School, Pingelly Community Resource Centre, Shire of Pingelly and Stephen Michael Foundation.
For more information about upcoming events or for support to quit or reduce smoking please call your local WACHS WAHS team:
Avon and Central: (08) 9690 2888

Eastern: (08) 9081 3376

Southern: (08) 9881 8319

Western: (08) 9651 0294