WA Country Health Service pilot project improving emotional wellbeing for Aboriginal consumers at Elizabeth Hansen Autumn Centre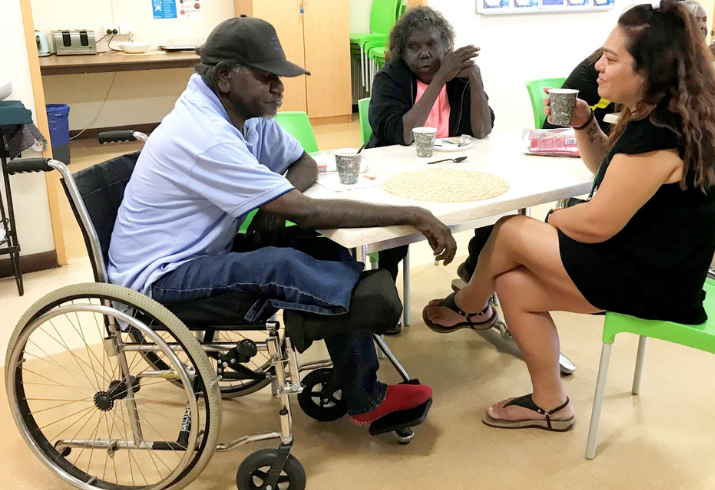 Clifford and Judith in the Elizabeth Hansen Autumn Centre.
The WA Country Health Service (WACHS) has launched a pilot to improve social connection for country Aboriginal patients staying at the Elizabeth Hansen Autumn Centre (EHAC) in Perth while accessing specialist medical treatment.
The program aims to provide culturally appropriate, socially supported outings and activities to Aboriginal people accommodated at the EHAC – in a time when they can feel isolated from family, community and country.
WACHS Executive Director Health Programs James Thomas said while WACHS took every effort to treat people on country and close to home, there are some instances in which travel to the metropolitan area for medical care is required.
"We know that having to come to the metropolitan area for medical treatment can be difficult and stressful for Aboriginal people – they've often had to travel long distances and are separated from their family and support networks," Mr Thomas said.
"We are committed to listening to the voices of Aboriginal people utilising this service and acting where possible to implement a holistic approach to care for patients who stay at EHAC, which includes their social and emotional wellbeing."
In collaboration with those staying at the EHAC, a program of culturally appropriate outings, transport and face-to-face support dubbed 'Between 2 Homes' was developed.
"EHAC residents were very excited to be involved in the program, saying they wanted to visit the beach, go fishing, watch a football game, and see Matagarup Bridge, Optus Stadium, King's Park and WA Museum Boola Bardip.
"One of the EHAC patients, Clifford, said how nice it is to have something to look forward to when he's away from his family and country, and another expressed her excitement at being able to tell her grandchildren about something other than her medical treatment."
EHAC patients have attended a West Coast Eagles football team training session and have received season passes from the West Australian Football League.
The Between 2 Homes pilot program creates a feeling of belonging and connection for Aboriginal people, enabling them to have other positive life experiences whilst residing away from home, allowing them to focus on their medical treatment to improve their health outcomes.
The Between 2 Homes program was a finalist in the 2021 Health Consumer Excellence Awards in the category of the Aboriginal and Torres Strait Islander Award which acknowledges outstanding service to Aboriginal and Torres Strait Islander health consumers.