WA Country Health Service administers 100,000th COVID-19 vaccine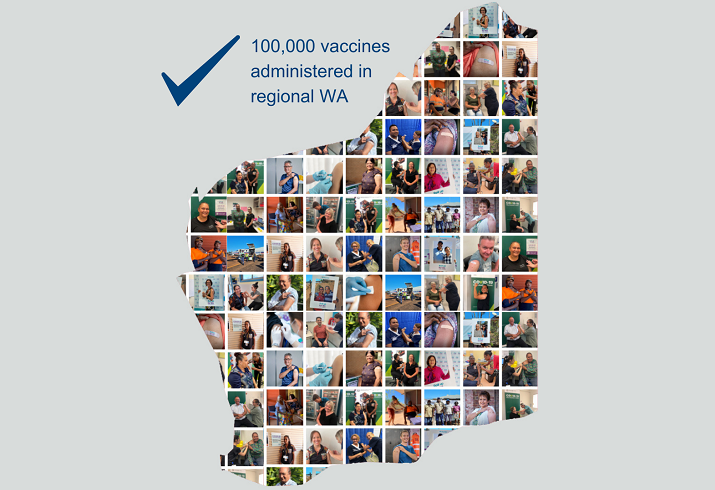 The WA Country Health Service (WACHS) has now vaccinated over 100,000 residents of rural and regional WA.
Since commencing the vaccination program on 2 March 2021, WACHS has expanded capacity for the delivery of vaccines as far south as Albany to Wyndham in the north – spanning some 2.5 million square kilometres.
Now operating clinics across almost 100 locations, the organisation also continues to partner with Aboriginal Medical Services (AMS) and Royal Flying Doctor Service (RFDS) to ensure even the most remote communities are protected against COVID-19.
WACHS Aboriginal Health Promotion teams are also achieving positive vaccination rates in some remote communities by working with community leaders and Aboriginal Elders to talk with residents about the importance of being vaccinated, and to bust myths.
This includes the remote community of Warmun – 160 kilometres from Halls Creek – where more than 86 per cent of eligible community members have been vaccinated. In Kalumburu, north of Wyndham, 65 per cent of the eligible community members have received their first vaccine.
To date, more than 160,000 country residents have been vaccinated through WACHS clinics, local GPs, Aboriginal Medical Services and pharmacies. Margaret Abernethy, WACHS COVID-19 Vaccination Program Lead, encourages everybody to get vaccinated as soon as possible.
"Vaccination is the most effective way to protect yourself against the threat of COVID-19."
"Make sure you encourage your friends, family and loved ones to register on VaccinateWA today."
With vaccinations now open to everybody aged 16 and over, Western Australians are urged to go to rollup.wa.gov.au to register and book an appointment.
A full list of regional COVID-19 vaccination clinics is available on the HealthyWA website.