Vaccinating the Dampier Peninsula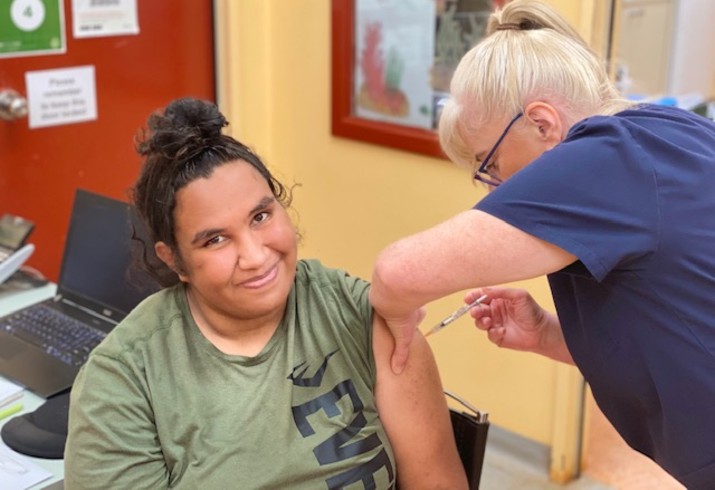 Jaylynn Lane rolls up her sleeve to get vaccinated against COVID-19.
There's been a vaccine blitz on the Dampier Peninsula, with members of the Lombadina and Djarindjin communities continuing to roll up to get vaccinated against COVID-19.
And there's no sign of vaccine uptake slowing, with the peninsula's remote clinic open daily for vaccine appointments.
Vaccination rates are also on the rise in nearby Ardyaloon (One Arm Point). A vaccine drive for the community is scheduled for Wednesday 15 September, including a raffle for everyone who has been vaccinated in Ardyaloon community by 13 October. Health promotion teams from the WA Country Health Service – Kimberley have been working closely with the community, local clinic and Nirrumbuk Aboriginal Corporation to spread the word about the importance of getting vaccinated.
Vaccines are delivered to Ardyaloon and Lombadina-Djarindjin every three weeks by the Royal Flying Doctor Service, with additional supplies delivered by road as needed. Vaccines are available at the clinic every day.
WACHS Kimberley Regional Director Bec Smith said that making it easier for remote communities to access the vaccine is an important step in the rollout.
"We're working hard to ensure our most vulnerable remote Aboriginal communities are informed about the vaccine and have the opportunity to roll up and get vaccinated against COVID-19," she said.
"Across the Kimberley, our teams have been connecting with Elders and community groups to raise awareness about our clinics and discuss residents' vaccine concerns.
"Seeing so many Lombadina and Djarindjin residents stand up to help protect their communities is an inspiration to us all."
COVID-19 vaccines are available to all Aboriginal people aged 12 and over.
Speak to your local healthcare worker about where you can get your vaccine or visit www.rollupforwa.com.au.