Talking COVID-19 vaccines at Dowerin Field Days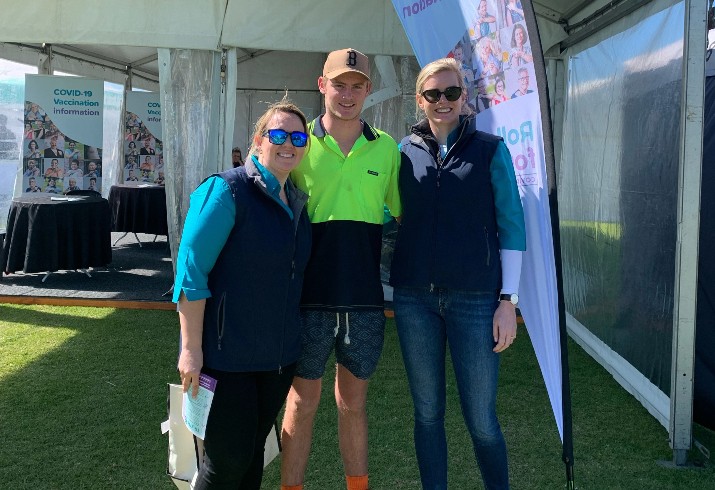 Footy took a back seat at Dowerin's football oval last month, with WA Country Health Service (WACHS) staff setting up an on-field marquee to talk with the community about COVID-19 vaccines.
A team of nursing and medical staff were on hand at the recent Dowerin Field Days to answer questions and to ease any community concerns about getting vaccinated.
While a veranda out the front of the marquee was the perfect place for these conversations with WACHS doctors and nurses, inside, our team of administrators was ready to take bookings.
The team helped locals navigate the VaccinateWA website, find information about nearby clinics and understand what to expect after having the COVID-19 vaccine.
Jacinta Herbert, Wheatbelt COVID-19 Vaccination Program Lead, said it was important to give our communities the opportunity to seek out vaccine information from a trusted source.
"The Dowerin Field Days were the perfect opportunity for us to connect with locals face-to-face and provide information and advice about vaccination," she said.
"It was great to see that many of the people we spoke to had already been fully vaccinated, or were booked in to have their vaccinations soon.
"Those passers-by who hadn't yet registered were able to make a booking for upcoming clinics thanks to the help of our friendly WACHS staff."
WACHS is now operating clinics across almost 100 locations in regional WA. These clinics are essential in protecting regional communities against COVID-19.
With vaccinations now open to everybody aged 16 and over, Western Australians are urged to go to rollup.wa.gov.au to register and book an appointment.
A full list of regional COVID-19 vaccination clinics is available on the HealthyWA website.