Wheatbelt cancer patients benefit from accommodation on country and close to home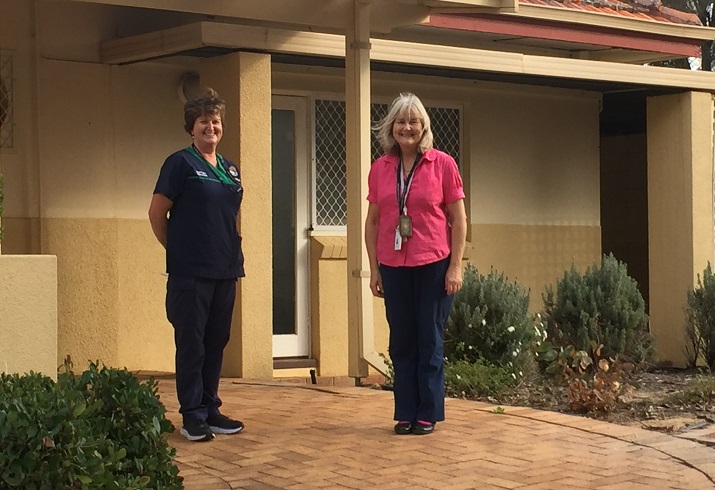 Allison Bairstow and Elizabeth Nairn from the WA Country Health Service cancer services team outside the Narrogin Gnarojin Bell Accommodation.
WA Country Health Service (WACHS) is improving the way cancer services in the Wheatbelt are delivered, with two new cancer accommodation facilities ensuring care on country and close to home.
The short-stay cancer accommodation facilities located in Narrogin and Northam opened earlier this year with several people undergoing cancer treatment having already made it their second home.
The $1.1 million facilities are specifically designed to be a comforting home away from home for cancer patients who are travelling long distances for treatment.
Patients are able to stay at the accommodation with a family member or carer before and after their treatment, ensuring they won't need to experience the stress or inconvenience of travel on treatment days.
WACHS A/Regional Director Wheatbelt Russell Colyer-Cockburn is pleased the facilities are open and are providing comfort to guests.
"The accommodation options are wonderful additions to the cancer services we provide in the Wheatbelt. We are proud to be able to help patients during this difficult time by easing their travel requirements and providing a nice and comfortable place for them to stay whilst in town for treatment," Russell said.
Both the Narrogin facility, named Gnarojin Bell Accommodation, and Northam Cancer Accommodation are fully self-contained with beds for the patient and their family member or carer.
Gnarojin Bell Accommodation is conveniently located on-site at Narrogin Health Service, and the Northam Cancer Accommodation is a short distance from both the town centre and Northam Health Service.
"The accommodation is free and provided to patients who meet Patient Assisted Travel Scheme (PATS) requirements so people don't need to be concerned about the financial side of things and can let their health take priority."
The new accommodation follows a series of upgrades made to the Wheatbelt's cancer services this year, which includes the new purpose built Narrogin Oncology Unit and the refurbishment of the Northam Chemotherapy Unit. These upgrades boost the region's cancer services by eight chemotherapy treatment chairs and two beds.
To support these developments, 13 additional staff members have been hired across the region to provide cancer services.
"The introduction of local accommodation for cancer services patients in the Wheatbelt will be hugely beneficial. We are so pleased be able to offer them the amazing treatment they deserve so close to home," Russell said.