Home Links brings hospital-level care even closer to home for Bunbury residents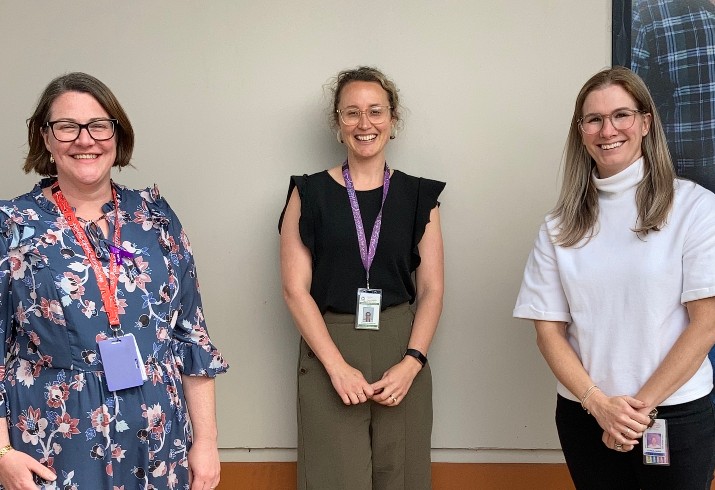 Staff from the Bunbury Home Links team
Care closer to home is about to get a whole lot closer for some Bunbury residents thanks to a new pathway providing hospital-level care outside of the hospital, known as Home Links.
Commencing Thursday 21 October, Home Links will provide services including, nursing care and allied health delivered in the patient's home.
Bunbury Regional Hospital Director Jeffrey Calver said he was pleased to see the service up and running bringing care even closer to home for the Bunbury community.
"We have a dedicated team of health professionals who have been specially trained to deliver a range of care, education and support via home visit, phone call or a telehealth appointment," Mr Calver said.
Home Links is supported by other care-in-the-home initiatives including, Rehabilitation in the Home providing short to medium term allied health therapy such as physiotherapy, occupational therapy, speech therapy, dietician advice or social work support.
The Home Links team are also delivering Emergency Department Links to provide short term allied health services in the Bunbury Regional Hospital emergency department before following up with patients post discharge to help keep them safe at home and prevent readmission.
Mr Calver said the Home Links service has been introduced as part of a service development and reform program being delivered through the $200 million Bunbury Regional Hospital redevelopment.
"The program is well underway to introduce a number of projects and initiatives, in consultation with community, to deliver contemporary services to meet the growing needs of the community," he said.
"This is the biggest redevelopment of a regional hospital ever undertaken in Western Australia and will deliver fit-for-purpose facilities providing the entire South West community with access to care close to home that will meet demand for years to come," Mr Calver added.