New alliance to transform health care delivery in regional WA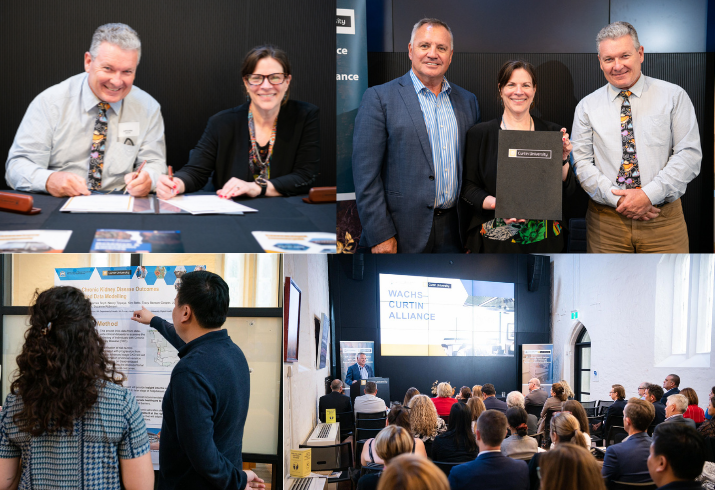 Dr Neale Fong, WACHS Board Chair, Jeff Moffet, WACHS Chief Executive and Professor Harlene Hayne, Curtin University WA Vice Chancellor.
WA Country Health Service (WACHS) and Curtin University have joined forces to further support the transformation of the way health care is delivered for people living in rural, remote and regional Western Australia.
The WACHS-Curtin University Research and Innovation Alliance will work to ensure better health outcomes for regional and remote communities, guided by leading research and innovation and more targeted training for the next generation of country health workers.
The partnership aims to positively impact health outcomes for those living in regional and remote areas, with a particular focus on Aboriginal and Torres Strait Islander people in WA and throughout Australia.
WACHS Director Research and Innovation, Anita John, says the program is another step forward in providing care closer to home for country communities.
"We know what's important to country patients; providing excellent care closer to where they live. That's why we're embracing innovation by collaborating with our partners to optimise technologies and access to better meet the needs of our consumers.
"Our teams are working hard to develop and implement new technologies, including virtual reality, that will go hand-in-hand with tools already available."
In a move to further cement this new relationship with Curtin, the WACHS Research and Innovation team will relocate next year to be on-site at the University's new Exchange precinct, Curtin's first dedicated industry-connected innovation district.
Working alongside will allow the teams easy access to data analytics capability and innovative new technologies including virtual reality and 3D imaging - tools that will help facilitate research to address the unique health care needs of regional Western Australians.
Important research under the new alliance is already well underway. This includes a key project to help better identify and manage chronic kidney disease - a condition that affects people living in rural and remote areas at almost twice the rate of city dwellers and Indigenous Australians at more than four times the rate.
The Alliance is also working to quickly upskill frontline workers who deliver telehealth services, noting how demand significantly increased due to the COVID-19 pandemic.