300,000 COVID-19 vaccines administered in country WA since March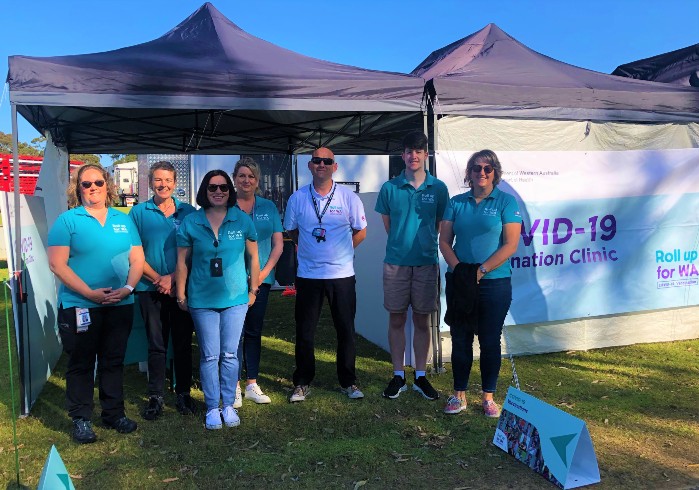 Brunswick Show COVID-19 vaccination team.
The WA Country Health Service (WACHS) has reported last week as its busiest week of COVID-19 vaccinations since the pandemic began, administering a staggering 300,000 doses across rural and remote Western Australia since March 2021.
To date, more than 349,000 country Western Australians have received two doses of a COVID-19 vaccine - 79 per cent of the population aged over 12 years.
WACHS COVID-19 Lead Dr Helen Van Gessel said she is pleased country Western Australians are recognising the importance of immunisation against the virus but knows more need to play their part.
"Getting vaccinated against COVID-19 helps protect people, their families and the community," Dr Van Gessel said.
"It helps to reduce the spread of infection and severity of illness if infected. With COVID cases being detected almost daily in Western Australia getting vaccinated is as important as ever."
Everyone aged five years and over is eligible for the COVID-19 vaccine.
In addition, everyone aged 18 years and over who had their second dose of a COVID-19 vaccination at least four months ago is eligible for a booster.
"There is good evidence that a booster dose of a COVID-19 vaccine increases protection against infection with the Omicron variant, preventing serious COVID related illness and death," Dr Van Gessel added.
"All adults aged 18 and over are now eligible for booster vaccination and shouldn't delay. Booster doses are particularly important for anyone over 60 years old, pregnant women and those with underlying medical conditions."
Regional and metropolitan vaccination clinics, participating GPs, pharmacies and Aboriginal Medical Services offer the free COVID-19 vaccination. Locations can be found on the Roll up for WA website: https://rollup.wa.gov.au/locations
Anyone can get COVID-19 and it remains a major risk around the world.
"Even if you are not an older person, you should still get vaccinated against COVID-19 when you become eligible and get a booster when the time is right," Dr Van Gessel said.
"The vaccine will strengthen your immune system by training it to recognise and fight the COVID-19 virus before it makes you very sick and it also minimises the chances of passing it to others."