Distance and transport difficulties no match for collaborative Wheatbelt health teams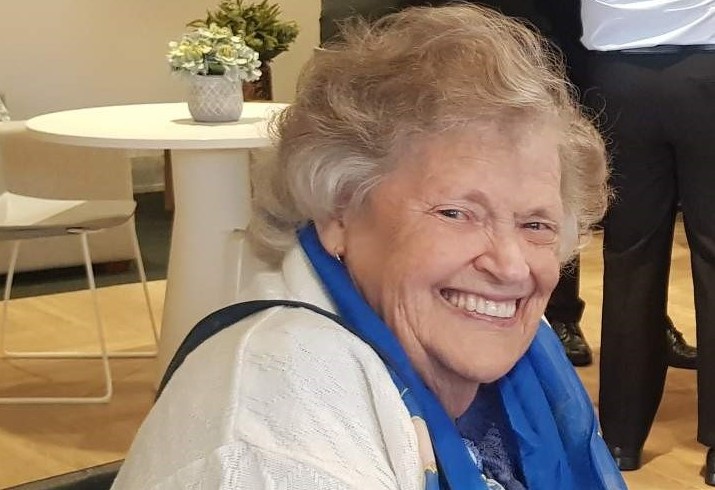 Peggy Crane Beverley Hospital aged care resident
More than 100 kilometres plus the need for wheelchair and hoist appropriate transport were separating Beverley Hospital aged care resident Margaret "Peggy" Crane from her sister's funeral, so WA Country Health Service (WAHCS) staff went above and beyond to meet the challenge.
When Peggy lost her sister, she became the last surviving sibling in her family and with her children unable to be with her during the sad time, WACHS staff took it upon themselves to get her to the funeral in Midland.
This involved WACHS Acting Director of Nursing, Health Service Manager Suzanne Taylor borrowing Lake Grace Health Service's bus which was equipped with everything Peggy needed to travel comfortably.
"When I explained the situation to Lake Grace Health Service's Acting Health Service Manager Lisa Pearce, she was immediately happy to loan their bus which was perfect for Peggy as it had a wheelchair lift and ability to secure her wheelchair, and it needed no special driving licence," Ms Taylor said.
"There was a lot of logistics involved such as arranging the bus to be transferred halfway between Lake Grace and Beverley, making sure Peggy had suitable clothes and her hair done as well as arranging medications and snacks for her so that she could get to her sister's funeral and back without mishap."
"The smile on Peggy's face when she found out she could attend melted my heart and seeing pictures of her at the funeral brought tears to my eyes."
WACHS Acting Regional Director Wheatbelt Russell Colyer-Cockburn said there have been many people unable to say goodbye to loved ones, especially recently due to COVID-19 related restrictions, and he was proud these Wheatbelt teams worked together to allow Peggy to be at her sister's funeral.
"Beverley and Lake Grace's wonderful collaboration and empathy in coordinating so many logistics for Peggy to be at her sister's funeral is a true demonstration of WACHS's values of community, compassion and curiosity," Mr Colyer-Cockburn said.
"The lengths staff went to for Peggy is absolutely heart-warming and their act of kindness is commendable."
"Peggy was very appreciative, as am I, to have such committed teams going the extra mile to ensure our aged care residents are supported to live meaningful lives," he added.