Staff recognised for excellence in rural health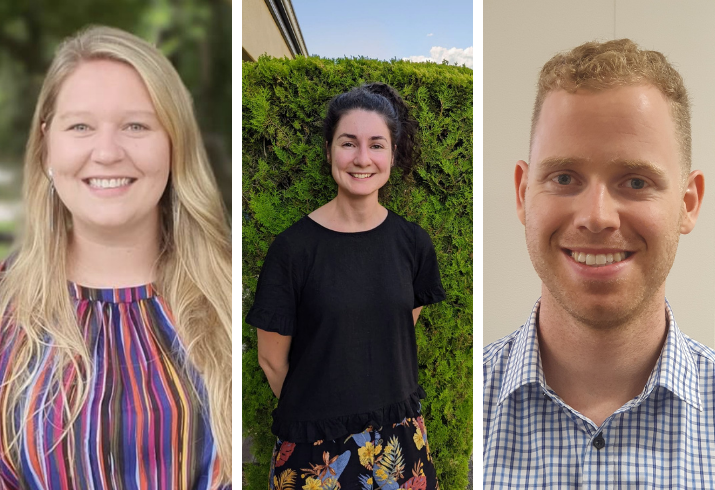 Three of WACHS' fourteen finalists in the 2022 WA Rural Health Excellence Awards
Fourteen health professionals and one healthcare team from across the WA Country Health Service (WACHS) have been shortlisted for the 2022 WA Rural Health Excellence Awards.
The annual awards celebrate the incredible contributions of rural health professionals in fields such as general practice, nursing, clinical leadership, rural research, education and community health.
Each year, WACHS and Rural Health West host the awards to acknowledge the extraordinary and critical role health professionals play in supporting the ongoing health, vitality and sustainability of rural communities across Western Australia.
WACHS Acting Chief Executive Melissa Vernon said it has never been more important to recognise country healthcare workers.
"Our staff in the regions continue to perform the extraordinary in what are difficult times for the entire health system but particularly those working in the bush," Ms Vernon said.
Congratulations to the following WACHS finalists:
Category

Finalist

GP of the Year

Dr Peter Maguire – Narrogin

Clinical Leadership

Dr Catherine Engelke – Kununurra

Dr Cherelle Fitzclarence – Karratha

Specialist of the Year

Dr Anna Robson – Kimberley

Dr Lydia Scott ­– Kimberley

Metropolitan-based bush champion

Dr Richard Forbes – Emergency Telehealth Service

Dr Jenny Vance – Karratha

Rural Nurse/ Midwife of the Year

Howard Kay – Wheatbelt Mental Health Service

Rural Allied Health Professional of the Year

Jan Batchelor – Katanning

Rising Star

Sheree Davies – Karratha

Building Healthy Country Communities

Healthy Country Kids Telehealth Program - Wheatbelt Ear Health Team and Perth Children's Hospital

Intern of the Year

Dr Alec Disley – Albany

Dr Elizabeth Tierney – Bunbury

RMO of the Year

Dr Fiona Spencer – Bunbury

Dr Alice Vella – Albany
Overall, 125 nominations were received from across ten award categories, including 29 nominations for the newly introduced Rural Allied Health Professional of the Year category.
The finalists were nominated by colleagues, peers and community members for their significant contributions and outstanding commitment to rural health.
Finalists were selected by a panel of clinicians and representatives from rural and health organisations.