WACHS midwives delivering high quality care to regional families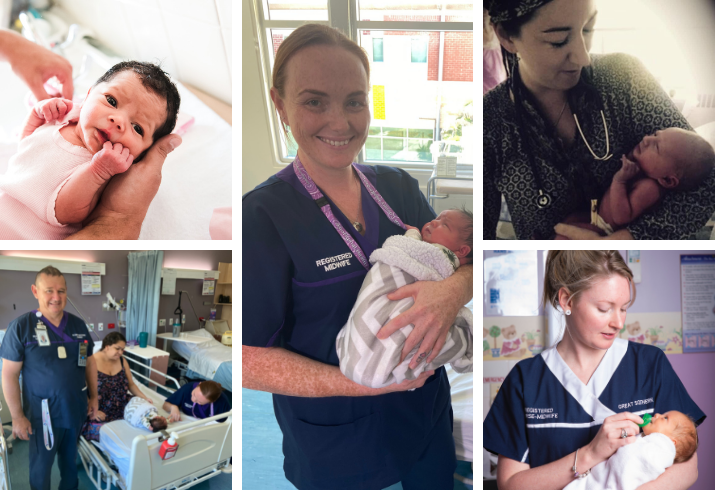 Celebrating International Day of the Midwife
Across the WA Country Health Service (WACHS), a dedicated team of midwives works hard to ensure expectant mothers and their families have access to high quality care close to home.
On International Day of the Midwife, Acting Executive Director Nursing and Midwifery Margaret Abernethy said that mothers, babies and families benefit every day from their commitment and dedication.
"WACHS midwives continually step up to new challenges and make a real difference in our country communities," Ms Abernethy said.
"In the last year alone, our midwifery teams have delivered some significant advancements in maternal and newborn care across regional WA."
In February, the Midwifery and Obstetric Emergency Telehealth Service (MOETs) was launched. The new telehealth service provides 24/7 support to midwives, obstetrics teams and non-birthing sites across WACHS via a central 'virtual' clinical hub.
WACHS also successfully completed the roll out of the K2 Infant Guardian system to all maternity sites across regional WA. The new foetal monitoring system is improving patient experience for thousands of expectant mothers.
"Expectant mothers have access to state-of-the-art, digital technology close to home, close to support networks and on country," Ms Abernethy said.
Further enhancing digital support, WACHS released the MyBaby WA app, providing pregnancy, birth and baby information to parents at the touch of a button.
The WACHS Lactation Consultant Telehealth Service is providing new mothers in country WA with breastfeeding advice and support from expert lactation consultants, using virtual care technology to reach families where they live.
WACHS also continues to expand the Midwifery Group Practice (MGP) model to more regional locations, giving more expectant mothers and their families access to holistic birthing care. In the last year, new MGPs have been launched in Narrogin, Carnarvon and Margaret River, adding to existing practices in Bunbury, Broome, Northam, Collie, Bridgetown and Manjimup.
"These remarkable achievements are a clear indication of our midwives' compassion, enthusiasm and leadership in their field," Ms Abernethy said.