Albany's Radiation Oncology Service another step closer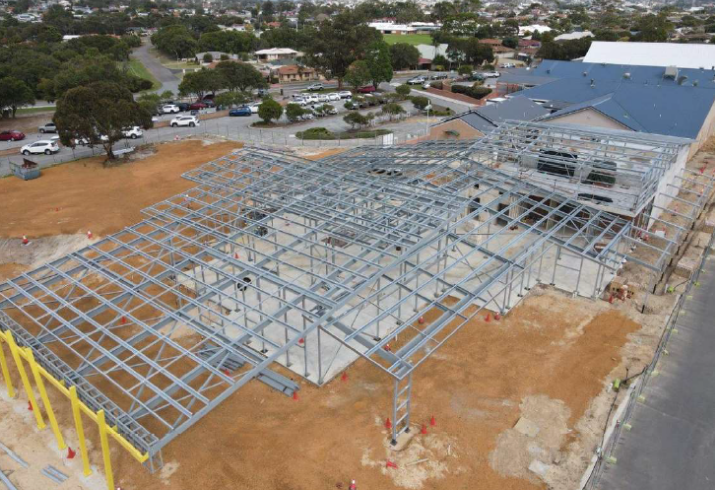 Structural framework for the new Albany Radiation Oncology facility
Great Southern communities are set to benefit from expanded cancer treatment services, closer to home and support networks with the $13.1 million Albany Radiation Oncology facility reaching another milestone.
Australian-based integrated oncology provider, GenesisCare has been awarded a 10-year contract to operate the service locally - providing treatment for cancers including prostate, breast, lung and colorectal cancers, as well as palliative treatments for symptom control.
WA Country Health Service (WACHS) Great Southern Regional Director, Geraldine Ennis PSM said the award of this contract brings us another step closer to establishing the very first radiation oncology service in the Great Southern.
"This is an important step in ensuring suitable cancer patients throughout the region will be able to receive potentially lifesaving treatment closer to home, loved ones and their support networks," Ms Ennis said.
"Once operational, the Albany Radiation Oncology Service will give Great Southern residents access to GenesisCare specialists and technicians who will partner with dedicated, local WACHS clinicians and support staff ensuring the best possible support is available throughout their cancer treatment," Ms Ennis added.
"The fit-for-purpose facility will be fully integrated with the existing hospital to ensure a seamless patient experience."
Once complete, the state-of-the-art, purpose-built facility will house a Linear Accelerator, or Linac, to target cancer cells, while minimising exposure to surrounding healthy tissue.
The Linac, as well as some other clinical equipment, was funded through a $6.6 million Commonwealth Government Radiation Oncology Health Program Grant (ROHPG).
The project builds on the WA Country Health Service's Cancer Strategy - aimed at improving and expanding the delivery of cancer services across country WA.