Emergency physician trades New York City for seaside WA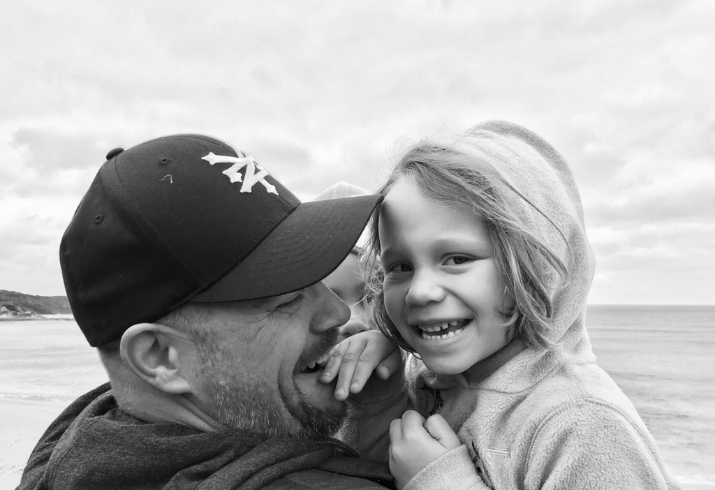 Dr Jason Pierce is an Emergency Physician based at Bunbury Regional Hospital in WA's South West.
Originally trained in New York city, he relocated to the Middle East to oversee a training program for junior emergency doctors before making the move to Australia in 2017.
Now part of the WA Country Health Service (WACHS), Jason is a real advocate for the South West and what it has to offer in terms of lifestyle and real-world medicine.
The move to Western Australia
"My wife and I moved to Bunbury looking for a wonderful setting to raise our young family and what we found here was so much more than we ever expected!" Jason said.
"As an International Emergency Consultant, Bunbury really appealed to me, it ticked all my boxes. It has this beautiful Mediterranean climate, is not too big or small and I think from a practice perspective offers unparalleled access to acute medicine presentations.
"I've got three school-aged children who are living the dream. There are so many activities they can do here – water-based sports, kayaking, swimming – they've got it all at their doorstep.
"It puts a smile on my wife and I's faces just to watch our kids growing up in this wonderland, it's hard to believe it's real sometimes."
Real world medicine
But it's not just living in regional WA that has its perks. Jason says the professional opportunities that arise from country practice are immense.
"I think there is a common misconception amongst metrocentric practitioners that you have to live in a big city to be exposed to cutting-edge medicine and in some respects, I do believe that is true. Metropolitan areas do offer tertiary level care and refinements that aren't always present in a rural hospital but on the flipside, and in Bunbury especially, we are presented with a huge presentation of undifferentiated acutely unwell patients from across the board," Jason said.
"So, it is more of a real-life perspective then you would get in a metro hospital – all genders, all ages, all specialisations. I think this is one of the most reality-based practices I have ever experienced and in terms of training and developing young clinicians, I believe working in an environment such as this is incredibly important in developing and sharpening their diagnostic skills and keeping them sharp.
"A lot of trainees that come from metro to do locum shifts or are on rotation with us, leave with a smile on their face saying this has been a very valuable experience and I think it's a shared opinion of those who actually are brave enough to come and work rurally that they are very much rewarded working in this setting."
Training opportunities for junior doctors
The South West is rich in training opportunities, says Jason, with the chance to learn from experienced clinicians from diverse backgrounds.
"We are currently accredited for 18 months emergency training and are pushing toward 24 months. We often get both Junior and Senior Registrars coming down and rotating with us as well as have in-house opportunities for both resident medical officer (RMO) and registrar levels.
"Some of the perks of working in Bunbury for junior doctors is that it is a very much hands-on experience with unparalleled access to senior clinicians who, especially in our department, have a very varied consult background from different countries, settings and with decades worth of experience.
"It's sort of like all of those collective differing experiences really adds a strength to our team and to our medicine, and certainly to our ability to educate and challenge RMOs and registrars when they come through."
General practitioners looking to upskill
"In our department, something that is very much near and dear to our hearts is working with general practitioners who are trying to upskill and work in rural environments. Many come through our department and pursue the emergency medicine certificate or diploma and we are always eager to train staff and supervise them in that endeavour.
"We all find it very satisfying because oftentimes they will move on to Margaret River, Busselton, Augusta and some further southern points and we often take referrals. It is always nice to pick up the phone and receive a referral from someone who has been in your department and exchange that positive vibe."
The drawcards of working in Australia for internationals
So what makes working in regional WA so special?
"The appeal of coming to Australia and functioning as an emergency specialist is massive, you've got ample opportunity to enhance your skills here. I would also argue that Australia offers an unparalleled health care system, something I think Australians sometimes take for granted," Jason said.
"The system encourages healthcare practitioners to do a good job and see things all the way through because there's not that pressure on you from a productivity point of view. I think that the American system that I was trained in is much more productivity based, and I think we lose something in that.
"Of course, you should be productive, and you should be efficient, those are all things that you would expect us to work towards, but I think you should, above all, be compassionate, and skilled and care for your patients. I think the Australian environment encourages and upholds these values and is a testament to this nation, and to this healthcare system."
Advice for doctors considering WA Country Health Service
"I think anybody working anywhere that isn't satisfied with their healthcare system, give us a look, because it's really happening here!
"Bunbury is an exceptional place to work with a real sense of collegial support and is such a great learning environment at any stage of your medical career.
"One thing that I tell trainees and I have yet to have someone come back and contest this, is you will get unparalleled access to patient presentations, procedures and you'll have a seasoned group of very skilled specialists to guide you along the way.
"So really, if you are still contemplating the move - stop and get yourself down here! You really don't even know what you're missing!"
To find out more about working with WA Country Health Service please contact our Medical Recruitment Team at WACHSDoctors.Senior@health.wa.gov.au or visit our Medical Vacancies Page for current opportunities.