Aboriginal cadet gets a taste of country health in upskilling program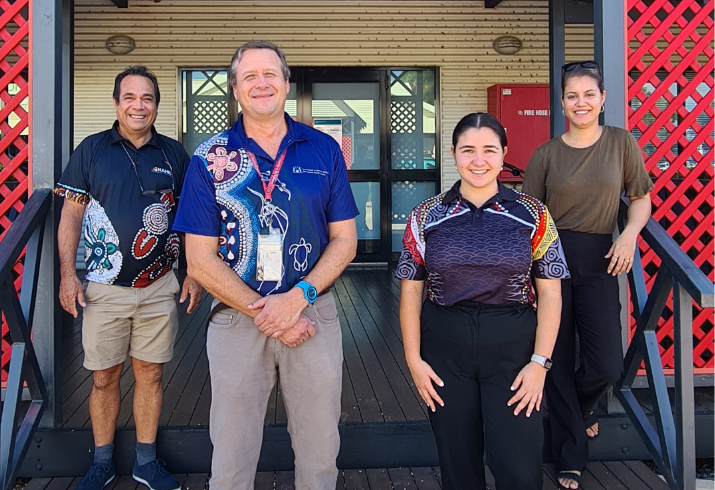 L-R: Rob Pulsford, A/Regional Director Kimberley, Cassandra Dempsey, WACHS cadet. Back, L-R: Dave Pigram, Regional Aboriginal Health Consultant and Darellyn Ogilvie, Aboriginal Health Programs Officer.
As part of our commitment to increasing our Aboriginal workforce, WA Country Health Service (WACHS) is offering Aboriginal university students the opportunity to gain paid work experience through WA Health's Aboriginal Cadetship Program.
Cassandra Dempsey, an Applied Science (Indigenous Professional Practices) student at Curtin University, has just undertaken a placement with the organisation's allied health team in the Kimberley.
"I was inspired to undertake the placement in the Kimberley as I have family and cultural ties to Broome and the West Kimberley, which has allowed me to understand both the complexities and rewards of working rurally," Cassandra said.

"My goal is to work with Aboriginal communities at a grassroots level to maintain and advocate for their health and wellbeing," she added.

For the first half of her placement, Cassandra worked alongside the allied health team at Broome Hospital, mentored by experts in occupational therapy, physiotherapy, social work and speech pathology - shadowing day-to-day tasks, meetings and appointments with patients.
Following this, Cassandra moved to the Kimberley Population Health Unit where she took part in health promotion activities and assisted with the Rapid Antigen Testing (RAT) program.
"Working on-the-ground with the community has given me firsthand experience with health on the frontline and has allowed me to apply the knowledge and experience I've learnt back to my projects in the Perth," she said.
"I hope to return to regional WA once I graduate," she added.
WACHS Acting Chief Operating Officer, Margaret Abernethy said as one of WA's lead agencies charged with improving health outcomes for Aboriginal people, experiences like Cassandra's were important.
"Hearing that Cassandra wants to build a career in country WA is incredible.
"We have a real focus on making a positive change for Aboriginal people accessing our services and programs and young leaders like Cassandra can help us on our shared journey."
Find out more about the program here: Aboriginal Cadetship Program (health.wa.gov.au)