Wheatbelt specialty program allows nurses to follow their passions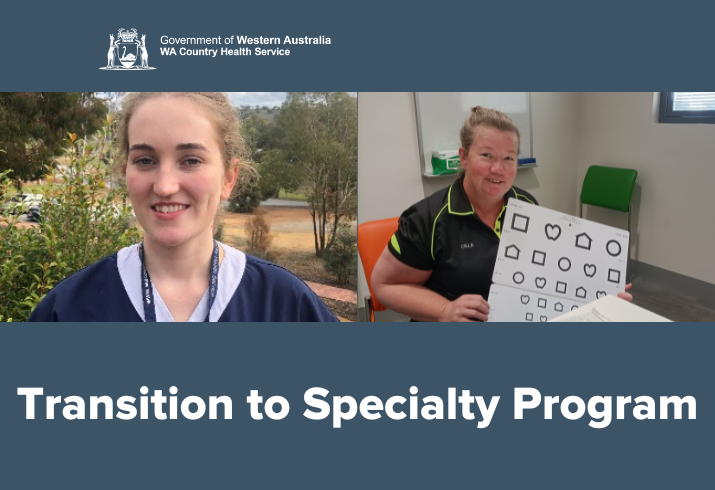 Thanks to a new innovative Wheatbelt education program, newly qualified Registered Nurses are being given access to 12-months of hands on supported experience in specialty healthcare programs.

As part of WA Country Health Service (WACH)'s commitment to supporting and retaining country Registered Nurses, newly qualified Registered Nurses in the region are being given the opportunity to participate in the Transition to Specialty Program.

The program allows nurses to expand their knowledge and experience in specialty fields such as Emergency Nursing, Perioperative, Population Health and Cancer Services.

Each Registered Nurse is supported by clinical experts and educators and are provided a mentor in their specialty over the 12-month program placement.

WACHS Acting Wheatbelt Regional Director Nursing and Midwifery Basil Paulose said the program allowed Registered Nurses to gain exposure to a variety of specialist healthcare settings in a supportive and less intimidating setting.

"As a newly qualified Registered Nurse you wouldn't normally have the opportunity to have focused training in specialty areas of healthcare this early in your career.

"With this program it enables WA Country Health Service to educate, mentor and invest in our Nurses from the very beginning and upskill them by providing a variety of opportunities to learn.

"By having hands on professional development in a specialist field, Nurses are able to find their passion earlier in their careers and continue to lead high quality healthcare in regional WA."

Newly qualified Registered Nurse Kathleen is one of eight to join the program, spending her time in Cancer Services.

Kathleen said the program gave her the opportunity to gain nursing knowledge in an area she was passionate about.

"The supportive learning environment and the opportunity to help patients throughout their cancer journey has been very rewarding," she added.

Eight newly qualified Registered Nurses joined the program in March this year as the first cohort and plans include expanding the number of specialty departments available to participants.