Students learn at Gnullingoo Mia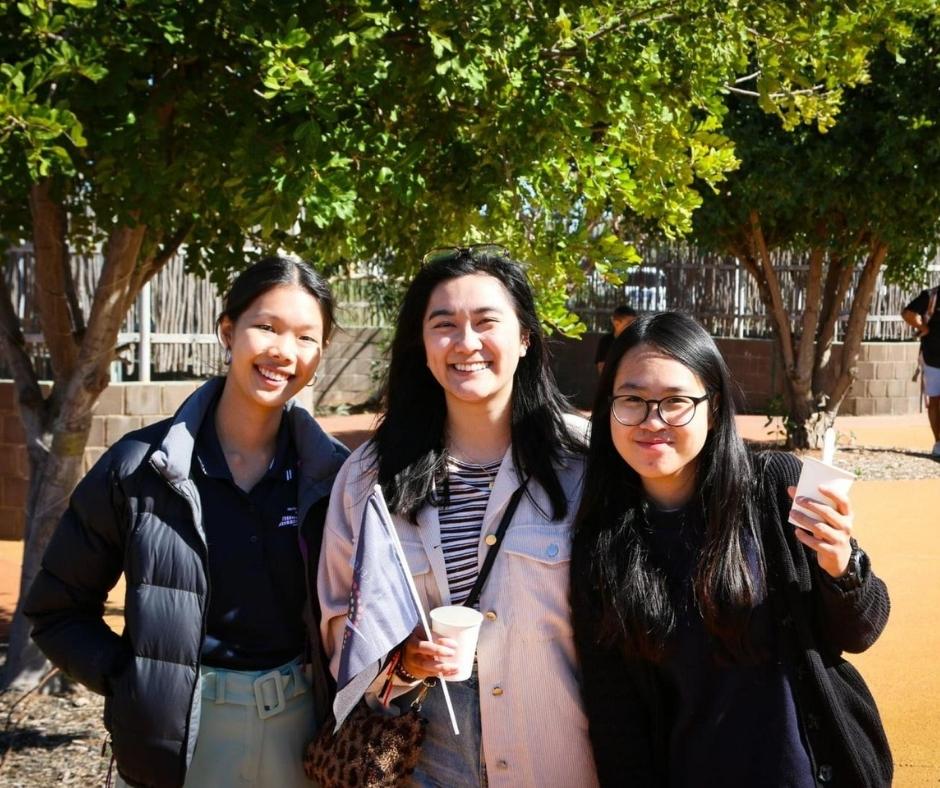 Social work students Ulani Ho, Rachel Boon, Maggie Leung outside Gwoonwardu Mia Gascoyne Aboriginal Heritage and Cultural Centre in Carnarvon.
Students from Western Australian universities have been learning alongside WA Country health Service (WACHS) clinicians at Carnarvon's Gnullingoo Mia Residential Care.
Students have been welcomed to the Carnarvon health site to complete aged care placements as part of the WACHS partnership with the WA Centre for Rural Health (WACRH).
Maggie and Ulani, social work students from The University of Western Australia (UWA), are two of the first students to have completed their placement and said their time in the Midwest has been an invaluable learning experience.
"The thing we love the most about doing a placement in Carnarvon is how close the team is. We collaborate with other allied health students and the residents at Gnullingoo Mia. Having a multi-disciplinary team and a spirit of community helps in catering for the needs of the residents," Maggie said.
"The rural placement has allowed us to integrate our learnings about Aboriginal ways of Knowing, Being and Doing into practice. Incorporating culturally responsive ways of engagement is at the forefront of our work at Gnullingoo Mia."
Gnullingoo Mia Residential Care is Carnarvon's state-of-the-art aged care facility which opened in October last year.
The $19.9 million facility is co-located at the Carnarvon Hospital allowing integration with other health services and specialties.
The student placements at Gnullingoo Mia have been developed in partnership with WACRH and include nursing, social work, speech pathology, physiotherapy and occupational therapy students, with planning underway for further placements in 2023.
Midwest Regional Director Rachele Ferrari said placement programs provided future clinicians with an insight to the rewarding careers on offer in regional WA.
"Moving from the classroom to the workplace can be nerve-wracking, but our staff do all they can to welcome and encourage new students with us on placement," she said.
"Whether it's students or established clinicians, working in country WA provides excellent opportunities for students to expand their skills and experience with the support of some of the region's best educators and specialists.
"Hearing these students had such a positive and knowledgeable experience with our staff at Gnullingoo Mia is incredible and we hope to see them return to WA Country Health Service as their careers flourish."
Social Work student Maggie added that she recommended the placement program to her fellow students, encouraging them to stay curious.
"When you are a student, it's an ideal time for you to explore and be open to learning," she added.
To find out more about working with WA Country Health Service, contact our Medical Recruitment Team at WACHSDoctors.Senior@health.wa.gov.au or visit out Medical Vacancies Page for current opportunities.