Bunbury Regional Hospital to benefit from 30 new modular beds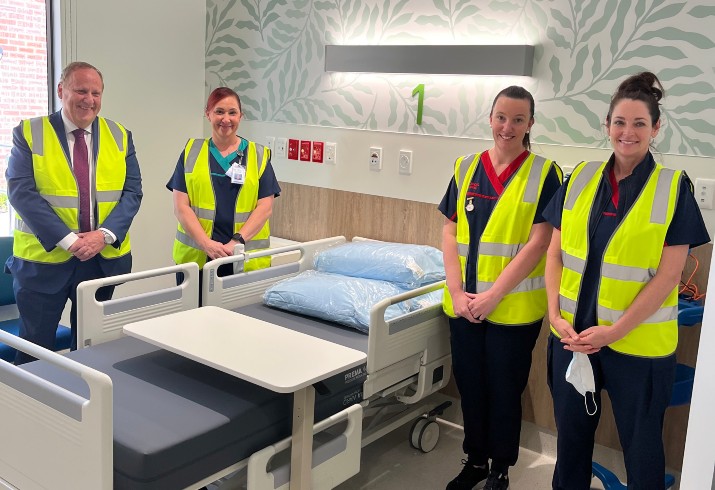 Bunbury MP Don Punch with Bunbury Regional Hospital staff in the new modular ward
Capacity at WA's largest and busiest regional hospital will receive a boost thanks to the construction of a new 30-bed modular ward.
The new modular facility will accommodate low acuity patients and includes 10 single bedrooms, 10 double bedrooms, ensuites, a patient lounge, staff offices, and reception facilities.
Jeff Calver, Director Bunbury Regional Hospital, said the new ward will increase capacity and help manage patient flow.
"Bunbury Regional Hospital is the biggest and busiest in country WA – so we've expanded its capacity in an innovative way to deliver extra capacity at the hospital quickly," Mr Calver said.
"It has been strategically positioned near existing infrastructure to help manage patient flow.
"Bunbury Regional Hospital plays an important role in the provision of health services across the entire region and we know this ward will be a welcome addition to the South West.
"This investment is on top of the $200.1 million to transform Bunbury Regional Hospital to meet the needs of our communities."
The new ward comes as Bunbury Regional Hospital was named 2022's Most Outstanding Regional Hospital at the Australia Patients Association (APA) awards last month.