Nurse-led telehealth cardiac rehabilitation service launched in the Wheatbelt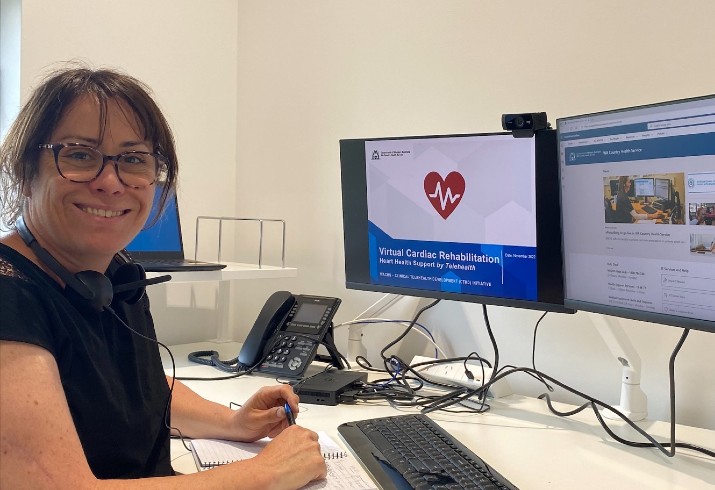 Nicole, Clinical Nurse Specialist, is part of the team delivering personalised programs of support tailored to individual patient needs.
Wheatbelt residents recovering from serious heart conditions are now able to access potentially life-saving programs at home, thanks to the launch of regional WA's first nurse-led telehealth cardiac rehabilitation service.
The cardiac rehabilitation service is available to people recovering from heart attack, heart failure, surgery or heart disease and includes specialist programs of exercise, nutrition, education and counselling tailored to individual patient needs.
Cardiac rehabilitation is proven to keep people out of hospital, reduce the risk of future heart conditions and reduces the risk of death from heart conditions.
Delivered securely via computer, smart device or phone at a time that suits the patient, the new service connects patients with an experienced cardiac rehabilitation clinical nurse specialist who works with the patient on a personalised, long-term program.
Kate Hawkings, Manager Clinical Telehealth Development, said the flexibility of a telehealth-enabled service means patients are more likely to start sooner and continue with their rehabilitation program.
"This new service has the potential to improve patient outcomes and quality of life, and lessen the chances of hospital readmission," Kate said.
"A holistic and personalised program delivered by a specialist cardiac nurse into the patient's home or community setting sets the patient up for success by reducing the need to travel."
Since its recent introduction, Wheatbelt residents have already benefitted from the service, which is expected to be expanded to other parts of regional WA in 2023.
The cardiac rehabilitation program is the latest initiative using state-of-the-art videoconferencing technology to deliver care closer to home in regional Western Australia
To access the service, patients can seek a referral from their GP. Self-referral options are also available.