Bunbury Regional Hospital opens education and research hub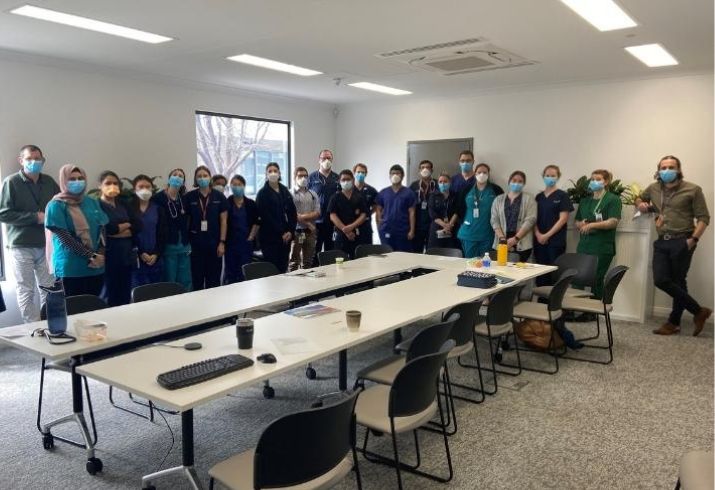 Staff at the Bunbury Teaching, Training and Research Hub.
South West clinicians and students will have more opportunity for professional development with the opening of the Bunbury Regional Hospital's Teaching, Training and Research Hub.
The facility supports staff across all health disciplines to upskill and facilitate training pathways.
Hospital Director Jeff Calver said the facility aims to grow staff's skills and empower them to learn, innovate and lead.
"Our team has been forming partnerships with universities, various health and education agencies and the medical education team to increase capacity of teaching, training and research across disciplines," he said.
"We're focused on building a culture of learning and continuous improvement, helping advance expertise in rural healthcare."
Outside the new facility, a Yarning Circle is also being designed to create a cultural space for meetings, connection to country, ceremonies and build strong relationships between staff.
Constructed from local Donnybrook stone, the circle will form the centrepiece of a native garden which will include bush tucker and medicine plans significant to the local Noongar people.
In addition to the Yarning Circle, the training hub consists of two assessment rooms, a group education area, six hot desk e-learning workstations and offices for the Medical Education Unit.
To mark the opening of the facility, WA Country Health Service held a workshop with staff from the South West, Central Office and Medical Education Unit to gain feedback on further education and innovation opportunities to explore throughout the hospital's redevelopment.