Community wellbeing garden at Bunbury Regional Hospital a place of reflection and remembrance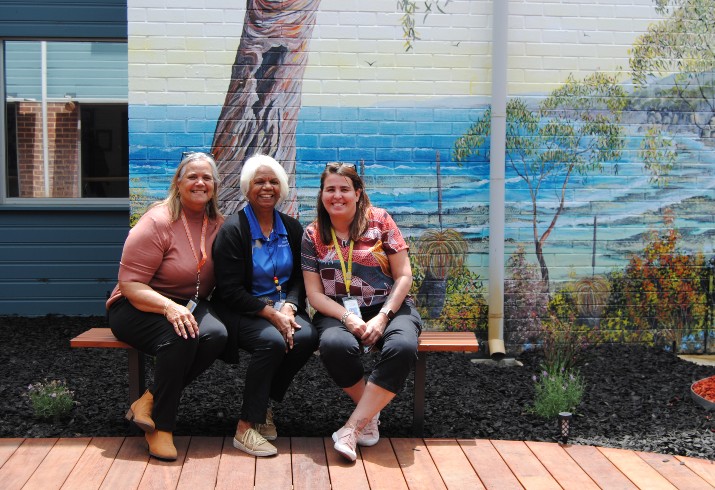 Regional Aboriginal Health Consultant Michelle Munns, Aboriginal Liaison Officer Karen Brisbane and Project Officer Cheryl Jewsbury.
Bunbury Regional Hospital has celebrated the opening of a community wellbeing garden and memorial wall.
Once a disused courtyard, the garden is now blooming with plants and flowers. The addition of benches and a gazebo make it the perfect place for patients, visitors and staff to sit and enjoy a break in the fresh air.
The garden is the result of true community spirit. Local businesses, community groups and staff all donated their time and resources (including plants from the gardens of our green-fingered healthcare workers) to bring the garden to life.
But it's not just plants breathing new life into this space. The courtyard features a mural depicting an Australian bush scene. It was painted by a former Emergency Department Nurse Joel Plevin.
The garden also includes a memorial wall, with plaques and a poem commemorating stillborn infants and neonatal deaths. There is also a wall to commemorate staff members who have passed away.
Bunbury Regional Hospital Director Jeff Calver said the garden demonstrated the wonderful results that can be achieved when the hospital, community groups and businesses come together.
"Our hospital staff know just how beneficial outdoor spaces can be on a person's health and wellbeing. They were excited by the opportunity to transform this area into a green space for patients, visitors and staff to enjoy.
"I'd like to thank the businesses, community members and staff who donated their time, energy and resources to bring this garden to life.
"We are so fortunate to have some beautiful outdoor spaces and gardens throughout our hospital. I know this one will become another firm favourite."
To mark the opening of the new space, the community came together for a morning tea in the new garden and a chance to view the memorial plaques.
Bunbury Regional Hospital would like to thank the business, community groups and supporters of the garden who donated time and resources to its creation:
Bunbury Regional Prison Horticultural group
Bunnings Australind
Country Landscaping and Irrigation
Hancock Memorials
Jakkals Nursery Supplies
Jetline Kerbing Contractors
Leschenault Community Nursery
Perkins Builders
QUBE Logistics
T.J. Depiazzi and Sons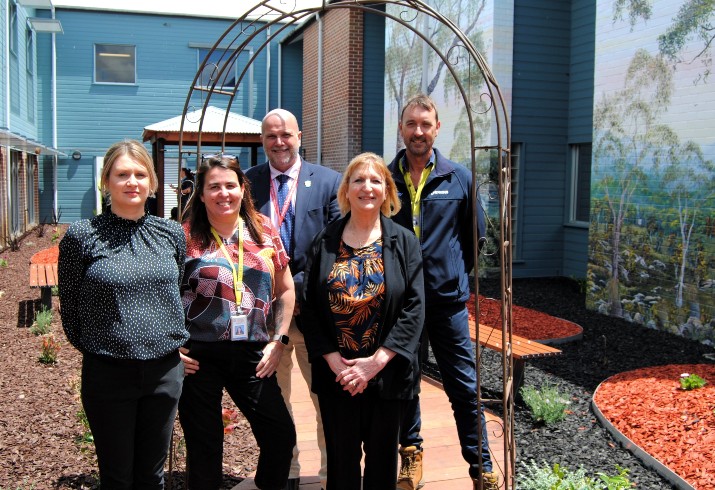 Supporters of the Bunbury Regional Hospital Wellbeing Garden, Kira Benson, Perkins Builders; Cheryl Jewsbury, Bunbury Regional Hospital Project Officer; Jeff Calver, Bunbury Regional Hospital Director; Denise Serino, Hancock Memorials; and Todd Wallrodt, Perkins Builders.