Small Midwest community healthcare delivers big lifestyle benefits for Claire Stringer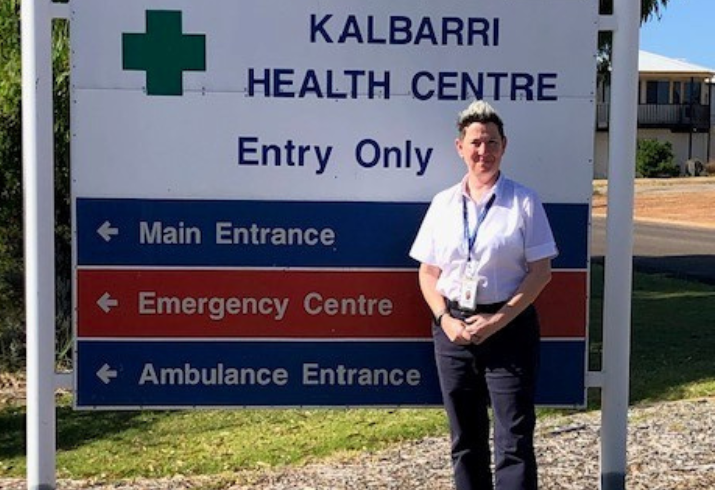 From first visiting as a backpacker in 1994 to when she moved there from the UK in 2005, the small Midwest town of Kalbarri has never lost its charm for Kalbarri Health Service administrative assistant, Claire Stringer.
Claire has worked at the WA Country Health Service site since 2015 and loves how varied the work can be.
"In my role as an administrative assistant I enjoy being able to help my colleagues and consumers where I can," she said.
"It's a nice feeling to be useful and to assist people."
Claire said she particularly loved the strong sense of community that comes with working at Kalbarri Health Service, which provides 24-hour acute and emergency care a range of other health services to the close-knit community and a steady stream of tourists all year round.
This was particularly evident in the aftermath of cyclone Seroja, when Claire and her family were overwhelmed by how the residents came together and looked after one another.
"The community spirit and resilience were unbreakable. Everyone was there for each other," she said.
"The cyclone was truly horrific and terrifying experience to go through but how we all got through the mess together was far more memorable."
Claire's commitment to her team was recognised in 2020 when she was nominated for the WA Country Health Service Midwest Excellence Awards.
The locally based awards recognise the achievements of WA Country Health Service (WACHS) staff working across the Midwest whose hard work and dedication ensure our patients receive the best health care possible.
Claire said that she was blown away by the nomination.
"We have many amazing people working across the organisation who I feel deserve recognition for everything they do every day. They go above and beyond their duties. I never in a million years thought someone thought the same about me. I am and was ever so humbled by that," she said.
For Claire, the rewards of raising her family in a part of the world known for its spectacular natural scenery, beaches and wildlife are outweighed by the opportunity to make a deeply felt contribution to the place she now calls home.
She has been a volunteer with St John Ambulance since 2015 and in 2023 will start a Diploma of Emergency Medicine.
WACHS would like to thank Claire, and all our staff working across regional WA for their dedication in providing exceptional health care to country communities.
Are you considering a career in the bush or want to know more? Visit WA Country Health Service - Work with us.