Boyup Brook brings joy to staff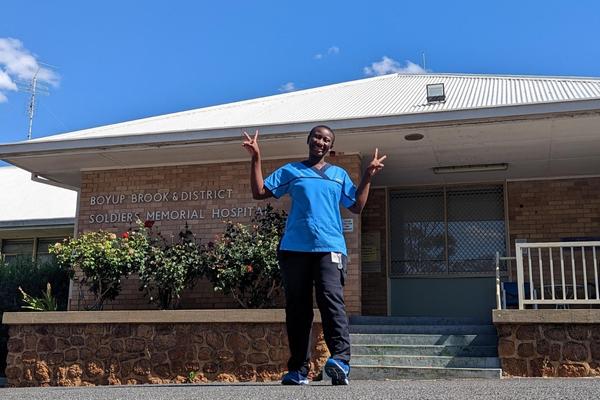 Benedicta outside Boyup Brook Soldiers Memorial Hospital
Thanks to the beauty of the South West and its close-knit community, it took Benedicta Amedor less than three months to fall in love with working and living in country WA.
Benedicta joined the WA Country Health Service (WACHS) South West team in Boyup Brook in September 2022 as an Assistant in Nursing.
Her first day nerves were immediately dashed when her patients and colleagues welcomed Benedicta with open arms.
"The staff and patients told me they were there to help me, not to worry and they would take good care of me which made me really happy and lightened my spirit," Benedicta said.
"Since then, every day I come into work is a happy day for me because I feel like I'm home."
The strong value of community and teamwork has been a highlight and appreciation of Benedicta's time in country WA, with the attitude in both her personal and professional life.
"Working with WACHS here in Boyup Brook I've really learn the value and impact of positive team work which encourages me to do more because I know it's appreciated by my peers and patients," she said.
"Everyone knows everyone, and everyone looks out for everyone, which is one of the amazing things I've realised about working and living in the country."
Benedicta added she would encourage everyone to consider a life and career in country WA – It's good for the soul and the wallet.
"I love it, I would tell anyone who is thinking about moving to country WA to do it – you won't regret it.
To find out more about working with visit our Living and Working in Country WA And for current opportunities visit our jobs.wa.gov.au.