Midwest a stroke of genius in healthcare awards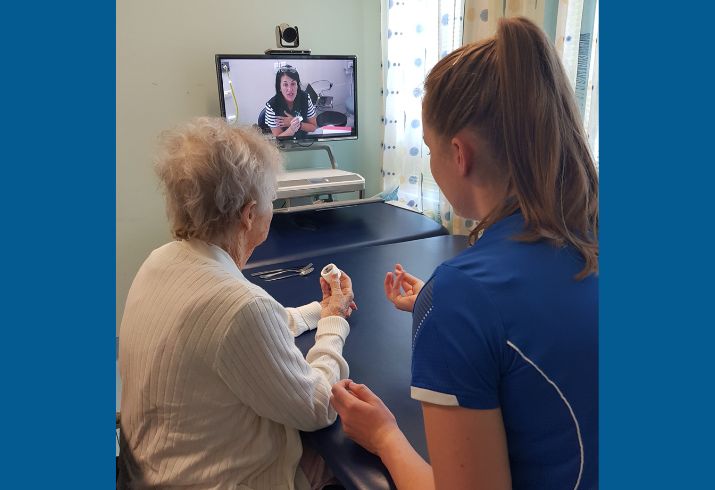 The WA Country Health Service's (WACHS) Midwest Admitted Stroke Telerehabilitation project has been highly commended for dedication to innovation and patient care in the Australian Council on Healthcare Standards (ACHS) Awards.
Led in partnership with Osborne Park Hospital Stroke Rehabilitation Unit, the project provides virtual specialist care through the use of a telehealth link up at Geraldton Regional Hospital. It helps to deliver safe and effective patient-focused specialist stroke rehabilitation closer to home for Midwest residents.
Established in 2018, it was piloted to support patients receiving stroke rehabilitation at Geraldton Regional Hospital. Since then, the project has expanded and now also provides specialist support to those receiving rehab as outpatients at the hospital.
This reduces the need for patients to travel, providing care close to home and close to their family and support networks.
Staff have also benefitted from increased access to specialist clinical advice and education as they work collaboratively with the support of Osborne Park Hospital specialists.
Out of more than 40 submissions received in the category of Clinical Excellence and Patient Safety, WACHS was the only WA entrant to be highly commended.
Kate Hawkings, Manager Clinical Telehealth Development said the recognition highlights how the project has significantly improved access for regional patients requiring specialist care.
"Specialist rehabilitation following a stroke is incredibly important.

"Through harnessing virtual care at Geraldton Regional Hospital, our clinicians have been able to support many inpatients and outpatients without the need for them to travel to the metropolitan area – usually a more than 900 kilometre round trip.

"The recognition demonstrates a strong commitment to supporting and developing innovation in telehealth-enabled healthcare that has a direct impact on patient outcomes."

The 2022 winners were announced at the ACHS Annual Awards Ceremony in November. See all winners and their submissions on the ACHS website.