Derek's experience shines a light on matters of the heart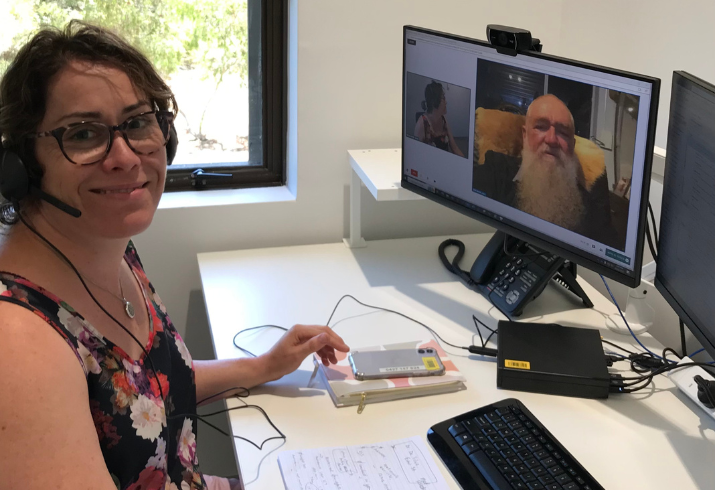 Cardiovascular Rehabilitation Clinical Nurse Specialist Nicole Skavik providing cardiac education via video link.
When Lake Grace local Derek felt a sudden pain in his chest, dizziness and numbing in his hand, he quickly recognised the early warning signs of a heart attack.
Knowing how important it was to act fast, Derek made his way to WA Country Health Service's (WACHS) Lake Grace Hospital for assessment before being transferred to Fiona Stanley Hospital for lifesaving open heart triple bypass surgery.
After recovering from surgery in Perth, Derek was able to return home to Lake Grace to continue his recovery process, supported by the WACHS Heart Health Support Service (formerly known as the WACHS Virtual Cardiac Rehabilitation program).
For 13 weeks following his hospital stay, Derek was linked with treating Cardiovascular Rehabilitation Clinical Nurse Specialist Nicole who was able to provide a tailored program of support via telehealth.
The service is available to people recovering from heart attack, heart failure, surgery or heart disease. It includes specialist programs of education, medication support, exercise, nutrition and counselling tailored to individual patient needs.
Cardiac rehabilitation is proven to keep people out of hospital and reduce the risk of future heart conditions.
Delivered securely via computer, smart device or phone at a time that suits the patient, the service connects patients with an experienced cardiac rehabilitation clinical nurse specialist who works with the patient on a personalised, long-term program.
WACHS Manager Clinical Telehealth Development, Kate Hawkings, said that for patients recovering from a heart attack or surgery, the weeks that follow are crucial in their rehabilitation progress.
"Providing this program close to home means patients can access specialist care that is tailored to the patient's needs, in the home or community setting at a time that suits them. It reduces the need to travel – which can sometimes be difficult during recovery.
"This is just one example of telehealth services improving patient outcomes and quality of life and it is hoped it will lessen the chances of hospital readmission," Kate said.
Derek said telehealth sessions with a specialist nurse mean he can access specialised support close to home.
"The program allowed me to speak directly with my nurse Nicole via video link.
"She did a great job at making me feel at ease and being informative. It maintains the patient objectives and I felt relaxed, informed and I could focus on my health improvement.
"I consider this [program] a great step forward. Nobody should ever feel that it's a disadvantage to live outside of the city limits."
Now recovered, Derek says he is glad to be alive to see his children and grandchildren reach their achievements. He's especially looking forward to walking his youngest daughter down the aisle later this year.
The service is the latest WACHS initiative using state-of-the-art videoconferencing technology to deliver care closer to home in regional Western Australia.
To access the service, patients can seek a referral from their GP. Self-referral options are also available.